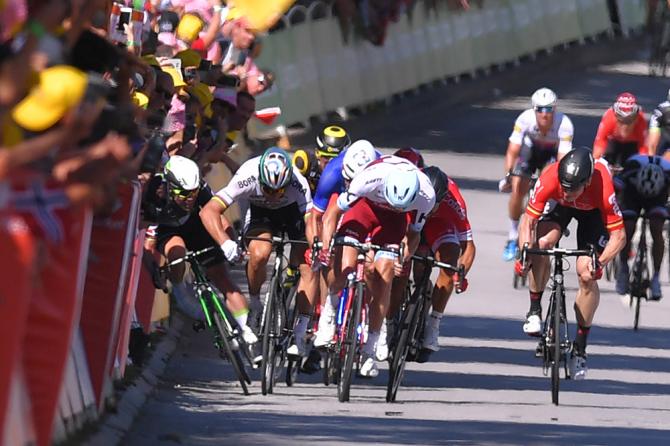 (Reuters) Peter Sagan is an aggressive rider but he did not deserve to be disqualified from the Tour de France because he did not intentionally send Mark Cavendish crashing to the ground, three-time Tour de France champion Greg LeMond said on Tuesday.
World champion Sagan was kicked out of the race after elbowing his British rival off balance in a hectic sprint in the fourth stage, the race jury saying the Slovak wilfully obstructed Cavendish some 100 metres from the line.
"It is too harsh, I think", LeMond told Reuters. "Some riders hold on to a car on the Tour and they are not kicked out."
Overhead TV footage shows Sagan clearly elbowing Cavendish but LeMond, who won the Tour in 1986, 1989 and 1990, noted that some of the action could not be seen.
"There is a part of the overhead shot under a tree… You can't tell if Cav' tried to lean on him. However his (Sagan's) response was way too severe," he said.
"In a sprint, when you're in front you try to close the door a little but sprints are very dangerous."
Riders often reach 70 kph in a sprint and any change of line or contact can have dramatic consequences.
"What Sagan did was wrong but was it intentional? Did he purposely send Cavendish into the barriers? I don't think so," said LeMond.
"I don't think Cav' would want him out. It's a loss for the Tour, Peter Sagan is not an angry person or a poor sportsman."
LeMond explained that Sagan, not being a pure sprinter, was bound to make errors.
"He's an aggressive rider, but he's not a pure sprinter, he is trying to take wheels," the American said, referring to the practice of jumping from wheel to wheel to benefit from the slipstream of the pure sprinters.
"He is a little wild and today he went over the line," he added, saying that the Tour would miss a rider whose colourful character has been a breath of fresh air for the sport. It's a loss for the Tour."