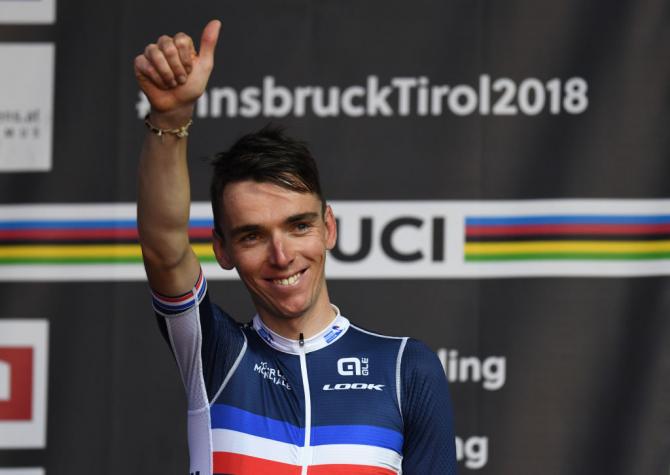 Romain Bardet (France) took the silver medal at the Road Race of the World Championships in Innsbruck as he wasn't able to beat Alejandro Valverde in the final sprint.
"We were close to victory so we can't be satisfied with second place in the biggest race in the world," Bardet said.
"Of course it's really difficult to beat Valverde on a flat finish, he's one of the fastest in a bunch sprint, especially after a hard race, so I have no regrets. I don't think I could have done anything else. I was just hoping he would be dropped or that my guys would come back up for a tactical finish. But on a flat finish, it's always hard to beat Valverde."
"I think the French were remarkable, racing with courage and self-sacrifice, we can be happy with that if not with the result," he said. "We made a good effort with a well-drilled tactic, we put a lot of people in trouble," Bardet said proudly.
"We rode to put Julian in the best position for the final climb because he has an amazing one-minute effort. After he struggled and said he had cramps, I knew it was up to me. You never know what can happen in the final of a race after 250km of racing. The final result is a disappointment but we couldn't really have done anything else."