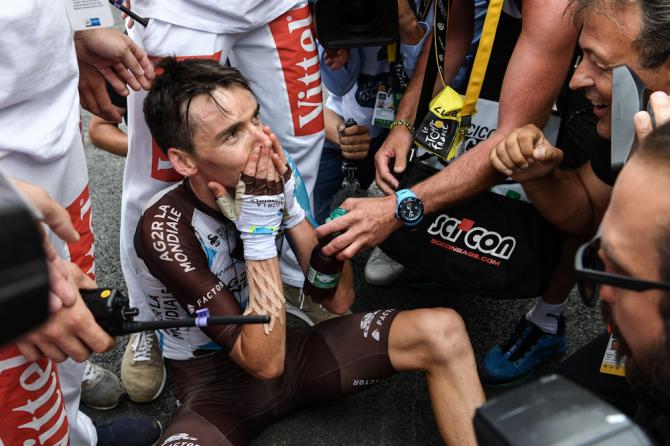 Romain Bardet is set to take part at the upcoming Vuelta a España his AG2R La Mondiale team  confirmed today.
"After having had a very full Tour de France, both from a sporting and psychological point of view, I took time to reflect on the rest of the season," said Bardet in a press statement issued by the team.
"For several months I have been considering the possibility of competing in the Vuelta a Espana, and after speaking with the general management of the team as well as the staff, they have reinforced this idea as an option for me.
"I am very happy to have a chance to participate in the Vuelta, not only as a way to avoid the monotony of a usual program, but also to compete in two Grand Tours in one season for the first time in my career. This is an important step in the life as a professional racer, and I feel that I have the maturity to tackle it.
"My ambitions will be different from those that I had when I went to the Tour de France this year, but with a high-performance team, I hope to figure prominently in those stages that correspond to my strengths," he concluded.
Team manager Vincent Lavenu believes that riding the Vuelta is the right move for Bardet at this point in his career.
"This is a logical progression in his career, even if double Grand Tours in a season will not necessarily become the norm in future years," he said. "His condition at the end of the Tour will allow him to approach the Vuelta with confidence. We will line up at the Vuelta with a very good team and have several riders who will be able to play a large role in the overall standings as well as during individual stages."