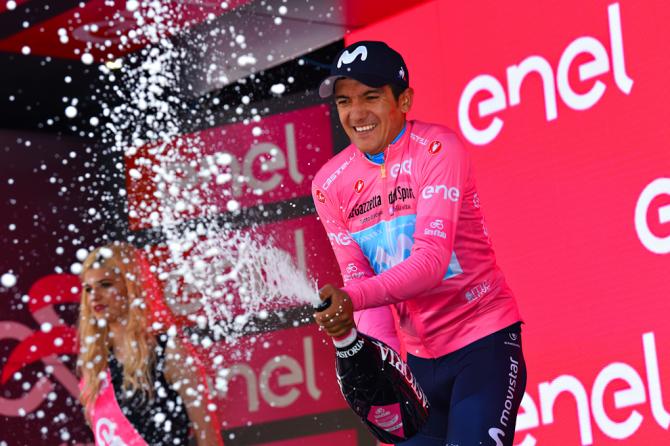 Richard Carapaz has been climbing very well in the Giro so far, and teammate Landa's fifth spot on GC affords him a tactical advantage.
The Ecuadorian needs at least another minute on Primoz Roglic, similar to how Vincenzo Nibali needs to lead the Slovenian by a minute before Verona's time trial conclusion.
"We knew yesterday's stage was dangerous and that (Vincenzo) Nibali was going to make a move, because he knows the terrain very well," Carapaz said.
"He was the reference and I kept a close eye on him. I felt my legs strong and considering that we had a gap, I tried to continue my attempts to increase that it or at least keeping it in the descent."
"Because of past registers, I think I will be able to maintain my level on the last week," Carapaz explained. "I have enough confidence in myself to try to give it all on the last days. I am not saying that I will win it, because there are many people that can fight for the podium and everything can happen in the Giro.
"We have seen things happening in the last editions of the race, so I can only think day by day. The key is to keep me in the same way of the past days, with good feelings. I can't think about the time trial of the last day in Verona. I want to continue little by little because there is a long way to Verona."
"I am very excited because the Pink Jersey is the result of the teamwork, of excellent work we will continue doing," he affirmed. "Now the rivals will keep more of an eye on me, but there is still a lot of race to be done and they will try me on different terrains. I have a team that is backing me up to defend the jersey for as long as possible.
"The leader's protocol doesn't bore me or make me uncomfortable, it is something normal when you are wearing one of the most important jerseys in the cycling world. I know I have to do certain things and I try to have as much fun as possible because if I stress out about it, the one that ends up affected is me."