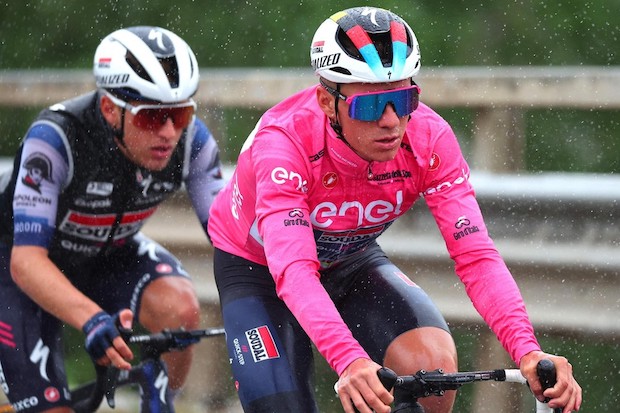 Remco Evenepoel took a swing at his critics as he announced he was back in training nine days after abandoning the Giro d'Italia with Covid even though he was in the lead.
"Ups & downs are part of our job and I can accept that," the 23-year-old posted on Facebook. "What is hard to accept is all the fake and negative comments I got after having to leave the race."
"I just want to ask everyone to remember I am not a robot, but also a normal human being, husband, son, teammate etc. with normal feelings. After today's check-ups and medical screenings, I got the green light to start training again."
Evenepoel left the race on May 14 after testing positive. He returned to Belgium the next day, "sick as a dog," according to the boss of his Soudal-Quick Step team, Patrick Lefevere.
The rider, who won the World Championship and the Vuelta last season, said leaving the race was tough.
"Definitely one of the hardest setbacks in my still very short career," he wrote. "A very brutal end of what could have been a beautiful story. 6 months of full preparation for only this race. Sacrifices, long days in the rain, long periods away from home. Everything was going according to plan but that is how sport goes."
Cycling no longer obliges cyclists to stop racing after testing positive for Covid-19 and in Italy, several former champions, including Francesco Moser, criticised Evenepoel's decision to leave the Giro on the eve of the rest day.
Gazetta dello Sport accused Evenepoel of failing to respect the organisers by announcing his withdrawal before warning them.
Gazetta said Evenepoel "would have found it hard to accept a defeat and preferred to leave the race with the pink jersey and two wins in the two time trials."
Evenepoel responded on Tuesday that "I am not the type of person that is going to hide or is afraid of losing".
"The last days were emotionally very hard because of these comments," he said. "But I will take those moments with me on the bike, preparing for my next goals and races."