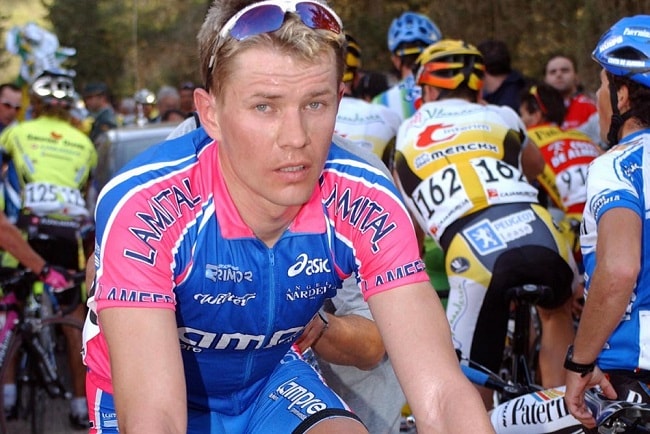 Former Tour de France podium finisher Raimondas Rumsas is being investigated in connection with the death of his 21-year-old son Linas.
On May 1, the Lituanian under 23 champion underwent examinations at San Luca hospital, including a cardiogram, but hospital staff assumed a printer error in relation to the latter. He was released but collapsed the following day in his home.
The SID news agency reports now that the prosecutor's office is investigating his father Raimondas Rumsas in connection with the death.
According to Gazzetta dello Sport, banned substances and medications were seized from Rumsas' house and that of the president of the Altopack team.
Raimondas Rumsas had a controversial career. His reputation was shaken when his wife, Edita, was stopped by a customs patrol near the Mont Blanc tunnel on July 28 2002, the day her husband finished a surprise third in the Tour behind Lance Armstrong.
As well as a hoard of drugs, the gendarmes found empty syringes with traces of the blood-booster erythropoietin and a centrifuge of the type used to measure blood thickness, as well as human albumin, which can be used to dilute the blood to circumvent random tests.
Though Edita Rumsas never clearly explained what the drugs were for, in spite of being held by French police for 75 days, her husband claimed they were destined for his mother-in-law, Yakstenia. His protestations of innocence were given a different perspective when he tested positive for erythropoietin in the 2003 Giro d'Italia and was banned for 12 months.