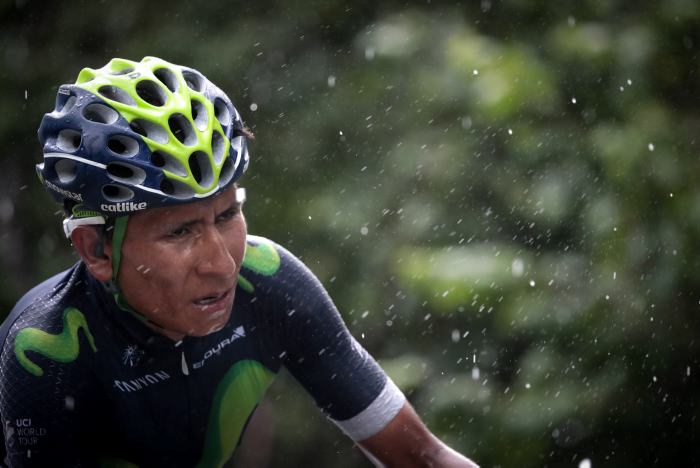 Nairo Quintana has taken on a well-documented workload this season, aiming for victory both in the Giro d'Italia and the Tour de France.
"I describe myself as a rider that is strong at the first half of the season, the second half and the third half also. I start winning in January, like last year, and I finish winning in the Vuelta a Espana for example," he said.
Marco Pantani last completed the double Giro-Tour successfully in 1998. Alberto Contador engaged in a noble attempt in 2015 and won the Giro, but fell short in France finishing fifth overall. Historically alone the odds are against Quintana, but the 27-year-old is confident in his ability, and that of his team, to pull it off.
"I'm more mature now, throughout the years we've seen that I do well in both," he continued. "I recover well and I do really well also in the second Grand Tour. This makes us think that we can actually achieve our objectives and be able to win both Grand Tours," he said.
"I'm excited to do something different this year, I'm really excited to try to fight for the win in both the Giro and the Tour. For me, I'm more focused on the Tour because it's the only one of the three Grand Tours that I haven't won yet. But we still will try to win both. It's very important the 100thedition [of the Giro], it's something that really motivates me also."
"This is completely different to other years because every other year we focus on winning one Grand Tour, on being 100 per cent in one Grand Tour," he said. "This year we have to be 100 per cent in both Grand Tours so preparation is completely different. I have to focus in the two of them, it has nothing to do with others years, but also I'm relaxed because I think I have a good team behind me."
"We've realised throughout the years that always the second Grand Tour I'm always stronger, maybe my numbers have actually been better in second Grand Tours in the past," he said. "I'm hoping this year the same thing will happen because I need to be 100 per cent at the Tour also, with a strong team behind me and good preparation."