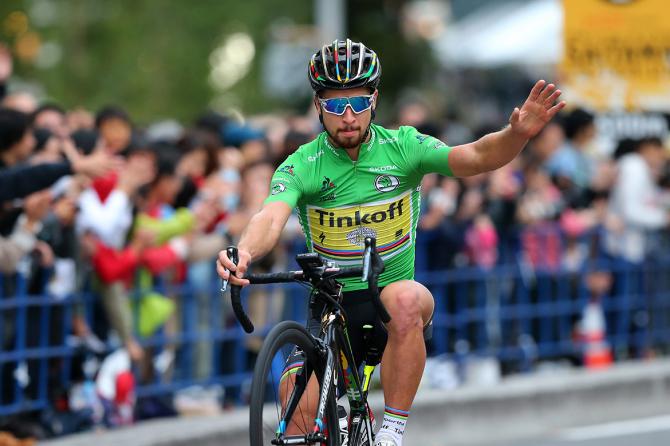 Peter Sagan won the 4th edition of the Saitama Criterium, outsprinting Japanese champion Sho Hatsuyama, while Chris Froome took third place after being part of the late four-man break.
On his first outing since the World Championships, Peter Sagan was not able to wear his rainbow jersey but did total justice to the green jersey he has won five times at the Tour de France. The Slovak waited for the penultimate of 19 laps of the Saitama circuit to launch an attack before putting an elite lead group featuring Chris Froome, Adam Yates and the Japanese national champion, Sho Hatsuyuma, to the sword.
After a season full of highs including wins in the Tour of Flanders and Tour de France stage victories, Sagan carved a new entry in his palmarès in Japan. On the Tour de France honours board, his green jersey was claimed by Marcel Kittel, while Romain Bardet snared the mountains jersey.
The battle for points also animated the early stages of the main race. And for once, Peter Sagan refrained from contesting the intermediate sprints, granting this little privilege first to Samuel Dumoulin, and then Marcel Kittel.
At the same time, Romain Bardet was settling down to the task of amassing mountain points to claim a polka dot tunnel climber's jersey! At this point, the World Champion was still keeping his powder dry, even allowing Fumiyuki Beppu to scent victory in a solitary raid that gave him a 15-second advantage on the pack with 5 kilometres to go. Then the five-time Green Jersey pulled rank. Adopting a similar tactic to the one that served him so well in Montpellier in the summer, Chris Froome, this time accompanied by Adam Yates, got into Peter Sagan's slipstream for a four-way finale that also featured Sho Hatsuyuma. Even sporting his jersey with the red rising sun, the Japanese champion stood little chance against the power unleashed by Sagan in the last 350 metres. The Slovak ended his year displaying the strength and class that have set him apart all season.
"It was a very fast start," said Sagan. "A breakaway got caught, another one started. Eventually the race became a bit more quiet so I waited for three or four laps to go to make my move because I knew I'd suffer too much if I bridged the gap on all the attackers. We rode strongly at the end. I was the fastest of the four so it went well for me."