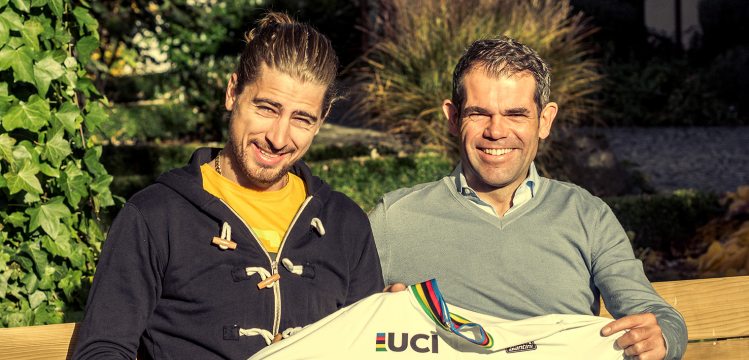 The UCI double World Champion met his new team mates for the first time at the Lanserhof in Bavaria. Besides several fittings, meetings with the sports directors and the new performance team have been on the agenda.
In December will be the team's first training camp, where BORA – hansgrohe will also hold a press conference.
"I'm really excited to take part in the first team meeting of BORA – hansgrohe. I think it is an important first step that includes meetings with the team management, my team-mates  and a number of our technical suppliers. I look forward to it and I'm eager to start working towards the 2017 season. This is the beginning of a new adventure for all of us and it will be exciting for sure.", said Peter Sagan.
"Peter now really has arrived in the team of BORA – hansgrohe. For us this is the first step into a new dimension. I am proud of what we achieved as a German team, having now the UCI World Champion in our line-up. Even there is so much going on around his person, Peter remained really polite and grounded. The whole team welcomed him the last days and I believe he felt comfortable straight away. This team meeting was a first stepping stone to the 3 year journey we take on together now.", said Ralph Denk, team manager.
"We did not make any detailed planning here like individual race programmes. It was more about defining our goals as a team and also to see what goals the riders want to achieve. With the rooster we available now, we can look confident into the next season. As a team our goals for 2017 are: win one of the five monuments, a top 5 GC result in two Grand Tours, win the green jersey at the Tour de France and a top 6 place in the WorldTeam ranking. These are ambitious goals, but we will work hard together with our athletes to achieve them.", said Enrico Poitschke, sports director.
"For our new performance team this have been important days. We had to define all the roles and procedures and the touch points to our partners. We did a lot of fittings like clothing, shoes, saddles and bike. Our primary goal was not optimisation, but more about collecting a solid data basis. Even though we did some adjustments with a few riders. And with all of them we fitted the new contact points pedals and saddle, to make sure they get used to them at the start of the first training period. The optimisation of material and training will be an ongoing process from now on with the goal to discover and exploit all possible potentials.", said Lars Teutenberg, performance director.