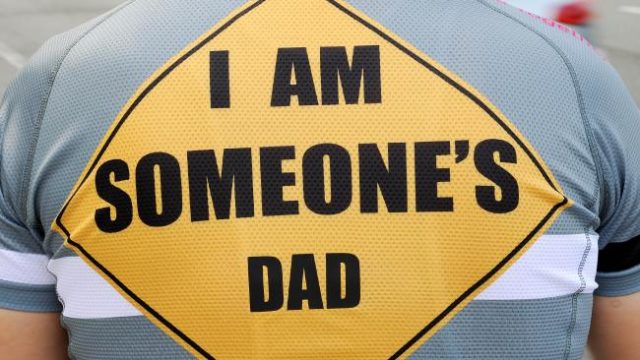 In the fight to create greater awareness about cycling and make the roads safer for cyclists, one of the most effective tools is to create empathy among those who might otherwise be hostile.
This is the tactic used by Cycle, who have made customised jerseys with phrases such as "I Am Someone's Dad" or "I Am Someone's Mum" on the back.
"The main thing about it is to promote in people's minds that we do belong to someone," Steve Mitchell said.
"Cyclists are someone's husband, wife, son, daughter, father, mother. We're not some blob on a bicycle that doesn't matter to anyone."
The jerseys include a black armband in memory of cyclists killed on their bikes, the 'I Am Someone's …' sign on the back, and a camera to remind motorists that cameras are everywhere.
"It's not just us with cameras, it's not just motorists. They're everywhere and we're all being held accountable," Cycle contributor Dave Guyatt said.
Steve Mitchell said the group wanted to move cycling forward and away from the polarising attitudes people have toward it.
"If every time anyone jumped into a getaway car we said all motorists are crooks – well, we don't do that," he said.
"When one cyclist does something wrong, it's every cyclist's fault. I mean, I don't know that person. This is where we've got to get people to think, it's not that they're a cyclist, they're just a d***head."