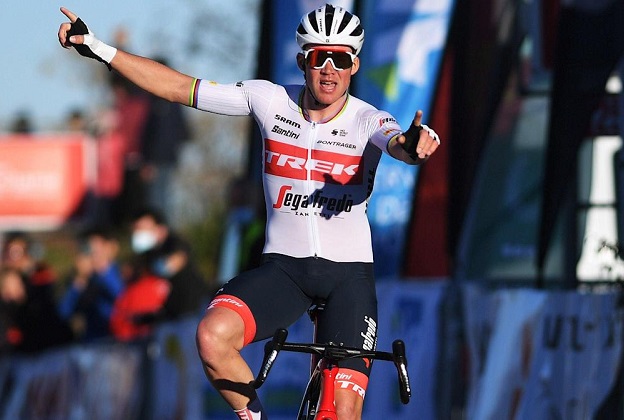 Mads Pedersen won the opening stage of the Etoile de Besseges with a powerful sprint from a small group. 
Crosswinds split the main bunch some 90km into the stage, and forced smaller groups on the road to chase after an elite group on the front that contained a handful of other, recent world and Olympic champions.
TotalEnergies worked for Boasson Hagen, with Mathieu Burgaudeau and Christopher Lawless sheltering their team captain. But Boasson Hagen could not hold Pedersen in the finale.
"This win is for Pepinho. The final was really tough, but I knew I could be good on these kinds of finishes. With Toms (Skujins) in the group I was able to save a lot of energy", said Pedersen.
"TotalEnergies started to pick up the pace very quickly in the last kilometre so I could only follow. I jumped away with five hundred meters to go. To be honest I thought maybe it was too early, but I was able to hold on because of my nice lead. When the peloton broke in two, I wasn't in the front so I ended up in the second part. I was surprised and so had to ride to the first group. It's always nice to win and start the season right. It's nice to have this form at this point in the season. I can build on this."
#Replay 🎥 / #EDB2022 🇫🇷
🚩 La flamme rouge de cette première étape : gros boulot des coureurs de la TotalEnergies pour EBH, mais cela ne suffira pas : 🇩🇰 Mads Pedersen (TFR) était trop fort aujourd'hui ! 🔥

— Renaud Breban (@RenaudB31) February 2, 2022