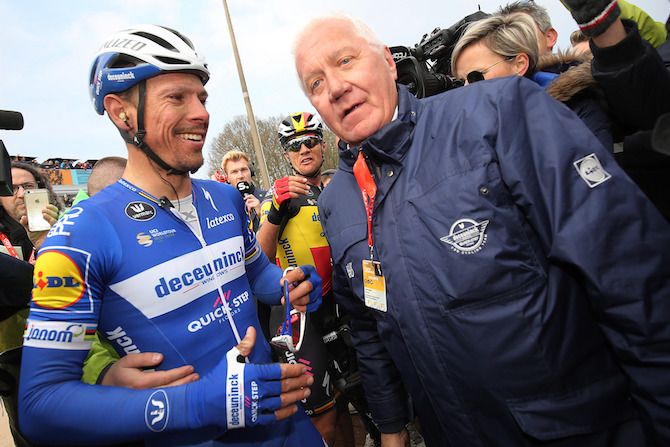 Patrick Lefevere is concerned with how the cycling world will deal with the control of the COVID-19 virus.
"My worst nightmare is that the races in July – like in tennis – lead to infections," he wrote in his column in Het Nieuwsblad.
The team boss of Deceuninck–Quick-Step hopes that the events in tennis will lead to a wake-up call for cycling.
"I still want to believe that Novak Djokovic has organised his demonstration tournaments with good intentions, but without precaution it will end badly. Let it be a lesson for all cycle races that will start again in July,"
"They are now shooting up like mushrooms, but I hope that enough attention is paid to prevention," says Lefevere. "Our riders are also young people who have not seen each other for a long time, but in the evening after dinner everyone immediately went to his room. I have said it before: in the race, attention to hygiene and the risk of contamination is a kind of second nature. In tennis – with the richest sponsors in the world – you may sooner think that you are untouchable."
Deceuninck–Quick-Step chooses to race a few races in July. The team starts in the kermis race in Rotselaar by sponsor Vermarc and will be at the start of the Tour of Burgos.
"By going on a collective training camp, the entire team can remain in the same bubble. That seems to me to be the safest and certainly the most transparent approach. Other teams differentiate between different programs, we prefer to keep everyone together for the time being. We will also be testing regularly in the coming weeks."
Lefevere is also bothered by the organisers: "They all want Remco Evenepoel and Julian Alaphilippe at the start. And yes, our riders also like to race. But the sun rises for nothing. Then we prefer a training camp in San Pellegrino, where the region does make a financial effort for the exposure that our stay offers them."