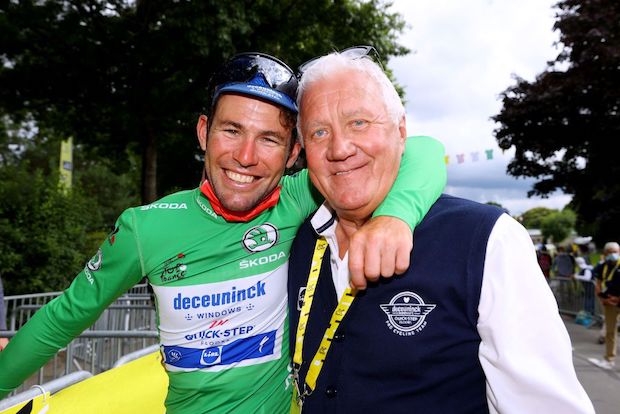 Deceuninck-Quick-Step team principal Patrick Lefevere was also emotional after the victory of Mark Cavendish in stage 4 of the 2021 Tour de France.
"We have more than 100 wins in a Grand Tour, but I never saw the whole staff crying," Lefevere said. "I think the whole staff was crying because everybody went on his emotions.
"Cavendish spoke already about it from day one, that he won here in 2015. He was motivated like a kid doing his first race. He had a lot to lose and nothing to win but I said 'No, that's not true – you are an underdog, and the others have to win. You came to the Tour de France and you can make it'."
"Eight months ago, Cavendish had no team. I took him in the team. He had a shit programme – all the races at the beginning of the season were cancelled.
"Then he went to Turkey – where he didn't want to go – because of COVID-19. He won four stages. At the last minute he came to the Tour of Belgium and won. He wasn't in the Tour team, and we called him on the Saturday before the Tuesday we left. He wins again, so if you're not emotional now, you will never be.
"He is a special animal, you can say this. He never wanted to leave the team but at the end of the story they are pro riders and it's always about money. He asked me already four years to come back and I said wait for the moment. This was the moment."
"It's typical of the English always to say 'thank you, thank you', but I know if he says it he means it. I said 'you don't have to thank me. You came here on a minimum salary, I gave you the chance, and you can only thank me with your pedals'. And now it's what he did.
"Realistically if I saw the sprint at the Tour of Belgium – OK it's only the Tour of Belgium, but you have to beat Ewan [who crashed out on stage 3, ed], Philipsen, Merlier, all those guys, and he did it. Otherwise, I would not bring him."