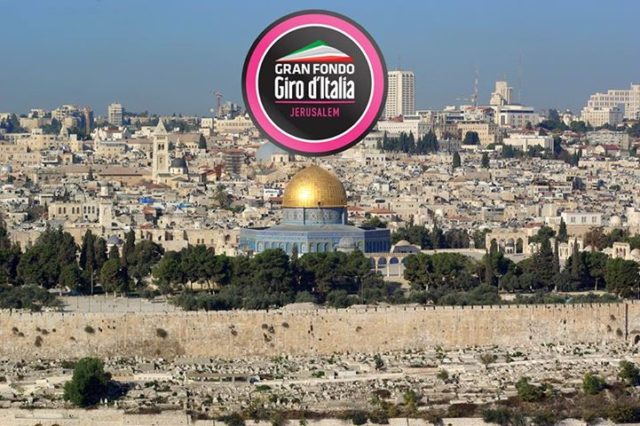 Over 120 civil society groups have called on organisers of the Giro d'Italia, RCS Sport, to move the race to another location, out of Israel.
The groups are protesting the decision to hold the race's start in Jerusalem, with a 10.1 kilometre time trial taking place there on May 4.
"Holding the "Big Start" of the 2018 race in Israel will not only cover up Israel's military occupation and racist policies against Palestinians, it will also exacerbate Israel's sense of impunity and encourage it to continue denying the Palestinian people their UN-stipulated rights," reads the text.
"Starting the race in Jerusalem will help cement Israel's unlawful claim of sovereignty over the city. Since it occupied and illegally annexed East Jerusalem over 50 years ago, Israel has worked tirelessly to expand and consolidate its illegal Jewish-only settlements in and around the city."
"On its website and official social media channels, Giro d'Italia deceptively portrays occupied East Jerusalem as part of Israel and as its unified capital. No country in the world recognizes any part of Jerusalem as Israel's capital," it says.
"The race stage planned for southern Israel, through the Naqab (Negev) desert, will pass by dozens of Palestinian Bedouin villages Israel refuses to recognize. Israel denies the indigenous Palestinians of these villages, who are Israeli citizens, the most basic of services, including electricity, water, clinics, schools and roads."
The petition also accused the organisation of the Giro d'Italia of working with "at least one company active in illegal Israeli settlements," that have reportedly been violating international law. "The UN Human Rights Council has already warned some 150 Israeli and international companies of the legal consequences of their unlawful involvement in Israeli settlements in the occupied West Bank, including East Jerusalem. All Israeli settlements built on occupied Palestinian and Syrian land constitute a war crime, according to international law.
"We are further concerned at news of Giro d'Italia plans to 'celebrate' 70 years since the establishment of the State of Israel at a time when Palestinians will be commemorating the 70th anniversary of the Nakba ('catastrophe'), when approximately 800,000 indigenous Palestinians were forcibly removed from their homeland, signalling the beginning of Israel's dispossession of Palestinians as a people and its ongoing denial of their human rights that continues today."