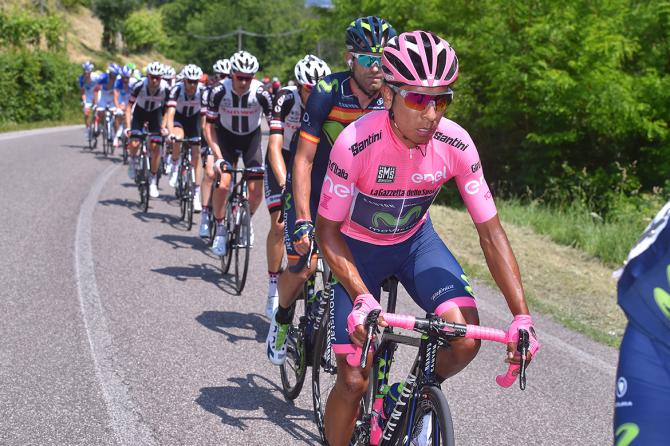 The 2017 Giro d'Italia will come closer than ever to the decisive, 29.3km ITT from Monza to Milan on Sunday.
Tom Dumoulin ceded only 15 seconds Saturday to Quintana and the other climbers in the final mountain stage at the Giro d'Italia. Quintana will start with a 53-second head start to Dumoulin in the flat time trial and the Colombian knows he'll need a great day to win his second Giro.
"Tomorrow will have to be the best time trial I've done in my life," Quintana said. "It's the last day. It's for the maglia rosa. I will give everything I have."
"We tried everything and this is what we got. It's difficult in such situations to try and convince the whole group to work as hard as you in the finale, even if everyone inside that move was equally interested on pushing. The only important thing now is that we've got the Maglia Rosa, which was our initial goal heading into the final TT – though we'd of course have liked to enjoy a bigger margin – and we'll give our best tomorrow with what's left.
"Many times in a three-week stagerace, you're made of pure suffering, even if it doesn't look so from the outside. It's really difficult to either attack or defend yourself against top-quality riders. It was such a difficult day for me. Once we got ahead of the Dumoulin group I pushed with all that I had, trying to open a gap on him because he's the biggest candidate for the win tomorrow. I wasn't really thinking about the sprint, the day's win or the bonus seconds, but just on distancing him as much as I could. He also had some people taking turns behind and the gap got quite smaller than we initially built after the top of the climb.
"Sunday's TT will be much different to the first one in this Giro. It's a pan-flat course, perfectly suited for specialists. I just hope to defend myself well. We haven't got that much time on our rivals, but sometimes things turn out well for me on such courses, and obviously, I'll do my best. The physical condition seems to be level within us, and I feel like gaps won't be really big. Dumoulin is the most dangerous rival, and Nibali and Pinot also do well on TTs. However, should things go just normal tomorrow, I shouldn't lose too much time. I also rely on fatigue: after 20 days of grueling racing in this Giro, I should stand a little more of a chance against them."