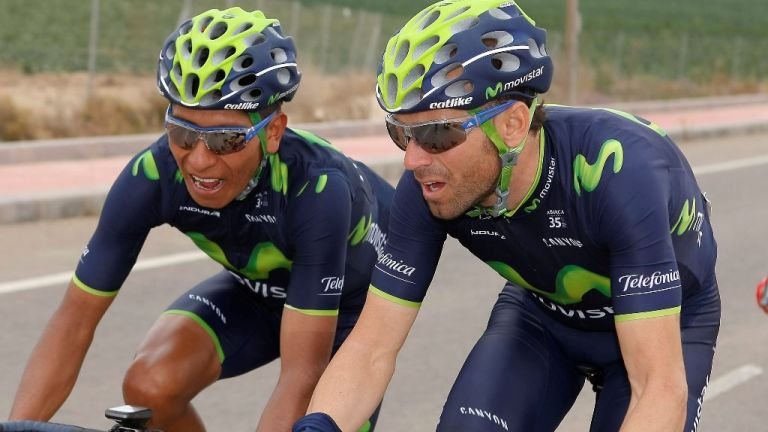 Nairo Quintana is trying to make the most of the nine sleeps remaining before the start of the Tour de France.
The Colombian climber from the Movistar Team preferred to avoid long journeys and remained at his European home in Monaco, where he rested up after the Giro and prepared his mind and body for a fourth 'Grande Boucle' appearance.
"Now that it's a bit longer behind us, I still feel that what I did in the Giro was good. We were so close to accomplish our goal, and we claimed a very decent podium finish, with excellent teamwork from all of the squad's members. It was obviously a bit sad not seeing things go as we expected in the end, but that makes me even more hungry and determined to chase the goals left in this season. I just hope I'm healthy and fortunate enough to take that final step forward in the Tour."
Approaching the Tour
"After the end of the Giro, I stayed off the bike at home for like a week, and following a couple more days of active rest I started to train more seriously, and took advantage of the race-free month to check some of the key stages in the Tour. The past week and this one are being the most intense ones when it comes to training. The fact that we went last week on a recce of the Alps stages made it quite more demanding, but it was good, since our plan for this week was taking on some harder training to finetune our form for the Tour. The approach to the Tour is pretty much complete – now it's all about staying healthy and keeping the legs fresh before the start of the race.
"To put the focus on either resting up or training more – well, it's difficult to find balance between them. In my case and in hindsight, I think that it was more important to get some rest and recover well before starting taking on serious training. Those three, four weeks were enough time to put on some good mileage between the two races."
Feelings
"I'm feeling good on the bike so far this month. I should be getting stronger in the next few days and thus reach the start in the best possible condition. But after all, you can only see where you stand when you're into the race. Everything has been different for me this season. It's true that I've ridden two Grand Tours several times already in my career, but this Giro-Tour double is quite different to anything I've done in the past. Also, the time of the year, the weather – it changes things a lot. The Giro went good for me, in that sense of approach, and that makes me tackle the Tour with good expectations."
"My feelings towards the double haven't changed after the result I got in Italy. We prepared for the Giro and the Tour with an aim to win both, even though we knew it was so difficult. We were so close to claiming the Giro GC, we weren't able to, but it doesn't matter. We're as focused on completing this double strongly as we were before the Giro. We'll try and get them this time in the Tour."
Contenders
"To me, Froome still looks like the big favourite. He always approaches the Tour perfectly, he's a race he's been brilliant at in the past, and I'm sure he'll be at 100% condition in July. Porte – we've all seen him riding strong for the past few years, and he's shown great abilities that make him a strong contender. Then there's Contador and Bardet, two riders with different skills, but as much dangerous. Also the Orica riders, with Yates and Chaves; the Astana duo, with Aru and Fuglsang, who seem to be getting to the start in great form – and, as I said before the Giro and the Dumoulin success, there's always some sort of surprise, riders you don't count on to get a result and end up contesting the GC."
Valverde / Movistar Team
"Having Alejandro by my side for the last few years made me stronger, as everyone could see. He's talented, he's experienced, he knows what to do. His race craft is something no one can bring to me. And his immense strength creates a serious threat to the other rivals, who fear what he can achieve. It makes you so calm to have him on your team. Our seven team-mates are still not confirmed, but I'm sure we'll have an excellent group lining up in Germany. They will give everything for me, as they've always done. It should be a mixture of veteran riders and strong youngsters, rouleurs and climbers, all of them talented. I've got 100% confidence in my team."
Route – 1st week
"We start off with a short time trial where we will try to do our best, but then again, the biggest goal on that opening week is avoiding any troubles. Sometimes you just focus on getting 100% to the race and forget about how important is to avoid any danger, to be able to control your nerves, ride well inside the bunch and also be a bit lucky into those first days in the Tour. It's all about about remaining focused and keeping the front, to try and reach the mountains with a 0-0 on your rivals, no own goals. I don't know La Planche des Belles Filles, but it should be a significant climb already on day five. We'll see how our rivals fare and who is brave enough to show his cards so early in the race. There's also two stages in the Jura, who should probably play a big role in the final results. Those are demanding stages, with several consecutive climbs, that will create a lot of wear and tear inside the bunch. Its exigence should be important for will come next."
Route – 2nd week
"The two Pyrenees stages are really hard, and after them we should have a clear GC in hand. The Peyragudes day looks like the most demanding to me, with 214 kilometers and many hours up and down into those tough climbs. However, the second one will be a really short one, with lumpy climbs, and we've seen in the past how great is the effect of short routes on Grand Tour designs. You just go flat out, at full steam from start to finish – those end up being spectacular."
Route – 3rd week
"The race scenario should be pretty much clear after the Pyrenees, and the Alps will clarify who's on the podium – and whose are those places. We know all climbs, we've raced on them in the past and were part of our recon – they're just amazing, so hard. The weather conditions could also be important, since they change rapidly at such heights. Finally, the Marseille TT – it's a really atypical route, since you've got terrain for time trial specialists and they should take advantage there, but you've also got a hard climb where GC specialists will have to push hard. Still, I feel like, with all mountains prior to that stage, the one who goes into that final TT in yellow will be almost certain to win".