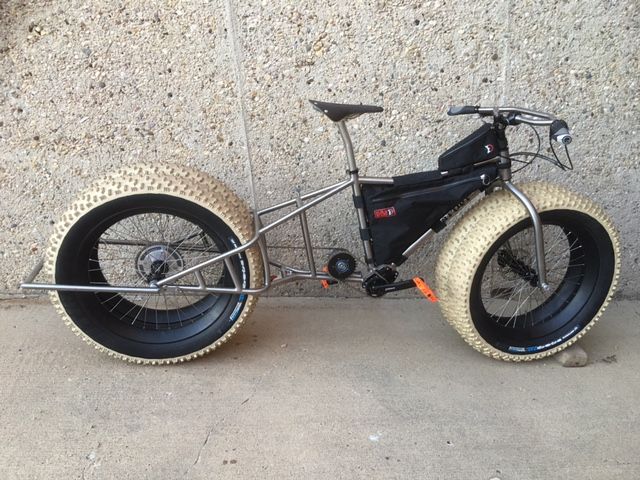 One man's unusual bucket list adventure could be a first for polar exploration, but it's already a first for the cycling world.
Hank Van Weelden, 50, from Edmonton, Canada is traversing Antarctica with a $17,000 custom, fat, quad-bike, constructed by custom bike-builder Davis Carver, owner of Carver Bikes in Woolwich, Maine.
"Carver was both willing and excited about the project," said Van Weelden. "He has proven to me on the other builds to think things through thoroughly. I needed that, especially on this bike."
The titanium frame has four 5.5 inch-wide wheels, two in front and two in rear, with an 18-speed internal hub utilising a pinion transfer case that Van Weelden said gives him "more range than mountain bikers with a triple chainring."
The design allows the stainless steel chain to run through the center of the bike, powering a rear hub that rests between the two tires, and meaning the rear wheels do not have to be dished to offset the asymmetry that plagues other bikes. The fully-symmetrical wheels are stronger as a result.
"I have 30 days to make it to the last airlift off the continent," Van Weelden said. "Barring medical or catastrophic bike issues, I'm confident in success."
In addition to the wheels and custom drivetrain, this bike has a built-in frame mount for Hank's Southern Hemisphere compass, a rigid tow bar, and a Norwegian-built carbon fiber sled that will help tow everything he's going to need for the 30-day journey.