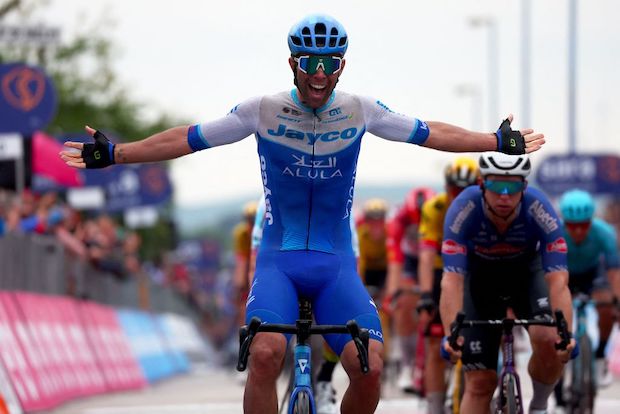 Michael Matthews timed his final effort to perfection to win a rain-affected stage three at the Giro d'Italia on Monday, following a 216-km ride from Vasto to Melfi.
Matthews and Mads Pedersen were neck-and-neck until the final corner, but the Australian, who was set up perfectly by his Jayco-AlUla team, moved in front on the home straight to emerge victorious.
Pedersen finished second, ahead of Kaden Groves (Alpecin–Deceuninck) and Vincenzo Albanese (EOLO-Kometa).
"Honestly, I'm just speechless", said Matthews. "What I've been through these last few months, to now come back with a victory for the team. We rode all day today, and they were fully committed for me to win the stage. I don't have words at the moment. It's been such a rollercoaster this year, and now we're on stage three already with a stage win. It's more than I could ever dream of."
"I heard that Pedersen was dropped on the climb,  so I was hoping he would be a bit pinned for the sprint," explained the Australian, "I just knew to go a bit early, get the jump on them, and it worked out.
"I just came here to his Giro to have fun, to enjoy riding my bike and being with my teammates, being with my team. Today it was such a team effort, and that win, that was for the boys."
Corratec-Selle Italia riders Alexander Konychev and Veljko Stojnic were the early pace-setters, leading the stage for the first half of the race, before being reeled in by the main group with 36 km to go.
Tuesday's stage four is a 175km ride from Venosa to Lago Laceno, which features two long and manageable ascents before culminating in a steep climb and a flat finish.