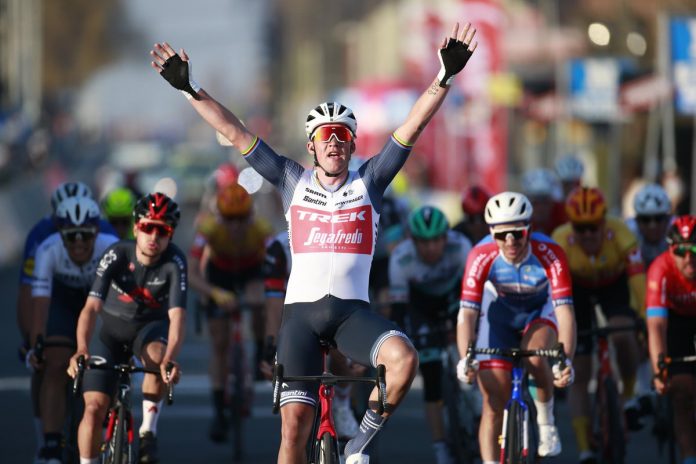 In 24 hours, Trek-Segafredo went from the bottom of the barrel to the top of the podium. After a 63rd place in the opening classic they won Kuurne-Brussel-Kuurne with Mads Pedersen.
There may have been many questions raised after Saturday's disappointing performance, but in Kuurne-Brussel-Kuurne, Jasper Stuyven and Mads Pedersen worked together to give the best response.
"It was super nice to finish it off today and make a result after yesterday. What can we say? We fucked up pretty hard and it was pretty bad, so it's nice to show that we are there," said Pedersen. "We don't want to see that team of yesterday, that's for sure."
After Mathieu van der Poel's audacious attack with over 70 kilometers remaining, Jasper Stuyven made the next key move on the Oude Kwaremont, accelerating at the bottom and helping create a strong chase group. With 55 kilometers to go and a dangerous Mathieu van der Poel still out front with over a minute, the race was on.
"I was actually sitting in Mathieu's wheel when he went, but it was quite early, so I didn't even want to follow. Then when the group went on the Kwaremont, my position was okay, but I was not quite good enough to follow," admitted Pedersen. "It was a good situation for us with Jasper in the first group. He can do a really good sprint and his chances were good too, so actually we were quite happy as it was with the two groups."
And that's how it remained until eight kilometers from the finish when the two chase groups merged and the breakaway with Van der Poel finally contained a few kilometers later. A late crosswind section was the last hurdle, and Stuyven and Pedersen played it well, hiding and waiting.
"We knew it was crosswind section before the final straight, and of course we didn't want to get dropped there, so Jasper placed us well, not full in the front, but up there. And then it was just about waiting game, and in the finish straight, Jasper timed it perfect. Super nice from Jasper today," said Pedersen.
In the sprint, Stuyven led out Pedersen, who won by over a bike length. "It's a strong field here – chapeau for Mathieu for trying and they almost made it, but today it was not in the breakaway's favor, it was in ours," ended Pedersen.
Mads Pedersen wins a memorable edition of Kuurne-Brussels-Kuurne! 👏 Thank you for the show, Mathieu! 👏#KBK21 pic.twitter.com/mFQJXFw79D

— Mihai Simion (@faustocoppi60) February 28, 2021