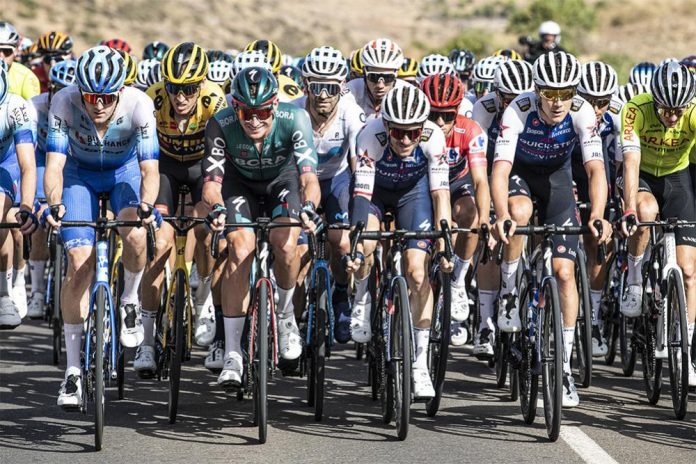 Prior to a frightening weekend coming up, the fast men of the peloton will be relishing a win on La Vuelta a Espana 2022 stage 13
La Vuelta a Espana 2022 stage 13 preview 
From pillar to post, this is a day designed for the green jersey to finally take his first win in this Vuelta. Even the weather with its headwind will make life difficult for the breakaway.
All factors are united for Trek- Segafredo to bring Mads Pedersen to an uphill sprint finish. To make things even sweeter, the American team will definitely get help from Team Bike Exchange and Israel Premier Tech.
Both last mentioned team are severely engulfed in a relegation battle and will be aiming to place Kaden Groves and Daryl Impey respectively in a position to grab any UCI points.
The last 6.5 km is a gradual rise to finish with a small plateau in between. Mads Pedersen, Danny Van Poppel, Daryl Impey and Bryan Coquard are the main sprinters expected to get over the last difficulty.
The sprinters' plan could however be ruined by puncheurs like Quentin Pacher, Fred Wright and Dylan Van Baarle among many others. The pace will be even higher and the positioning harder with GC team making sure their guys avoid gaps.
Finally, the breakaway could still have an unlikely say and Lotto Soudal will make sure to play their cards right by sending strong and resilient men in front.
La Vuelta a Espana 2022 stage 12 predictions
★☆☆☆☆ Bryan Coquard
Le Coq is nowhere close of his best form but he will love an uphill finish and might suddenly find some form to be able to yell victoire.
★★☆☆☆ Kaden Groves
The bike exchange man is fast, enjoy uphill finish as well punchy one as seen in the Tour of Turkey. With Simon Yates, the Australian team is fully focused on getting UCI points through stage wins and Kaden Groves could double his tally in La Vuelta a Espana 2022 stage 13
★★☆☆☆ Daryl Impey
The South African and his team deserve more than a shoutout. Indeed Israel Premier Tech has 2 big options in Daryl Impey and Patrick Bevin both fast men who enjoys punchy finishes.
★★★★☆ Mads Pedersen
The big favourite for everyone. He has been climbing like a devil in this Vuelta. His form has been nothing short spectacular. He will win uphill sprint all day!
★★★★★ Danny Van Poppel
His from has been exceptional since the Tour de France. Brought in as the lead out for Sam Bennett, he accomplished his duty perfectly. Circumstances changed and he given the responsibility of leading the sprint hope of his team and boy did he not deserve.
He has a very strong team around him to deliver him perfectly to the win.
An exclusive post by A LeadOut for Cycling.today
Watch live and free: La Vuelta a Espana 2022 – stage 13 on