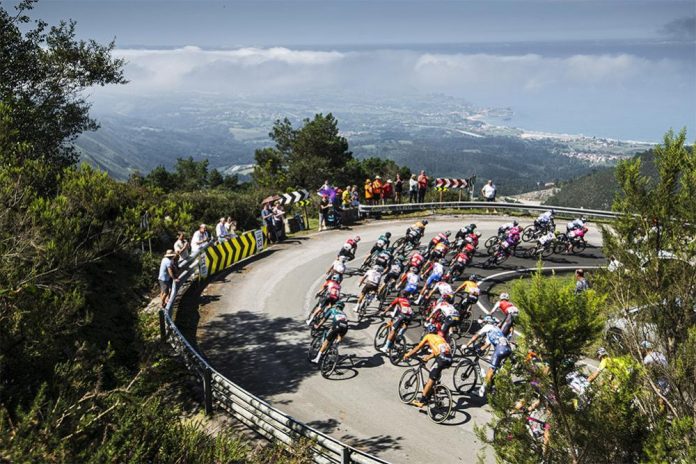 Remco Evenepoel is not the 

most feared of the race anymore. Taking out riders one by one, Covid-19 is now the peloton's biggest enemy and everyone left will be on their guard at the start of La Vuelta a Espana 2022 stage 12.
Stage 11 review
Kaden Groves delivered a perfect sprint to reward his team for an absolutely well executed plan. Meanwhile Simon Yates and Pavel Sivakov were the latest big victims of a positive covid lateral flow test.
La Vuelta a Espana 2022 stage 12 preview
With fewer riders and teammates left in the race, it will take a real and possibly useless effort from the leading riders' team to keep the breakaway in check and deliver their man for a stage win.
Another hectic and power battle for the breakaway is expected though but it might also not happen. We have a decimated peloton and there are a few scenarios that could be happening:
1. The big boys make a truce pact to roll though the day until the last climb.
2. A handful of dangerous riders will try to get into the breakaway of the day and seize the opportunity to swing themselves back into contention. (Arensman, Hindley, Meintjes)
3. We will have an absolute bliss of a day with the likes of Almeida, 0'Connor and even Roglic trying to make the breakaway and forcing Remco Evenepoel to react. This might ultimately form a very strong breakaway group while also splitting the peloton into pieces.

The gummy bear of the day is a 19km effort with an average of 6.7%. With what we have seen from Remco till now, he will absolutely dominate this climb. The only question is as to where he will situate himself at the start of the ascent with respect to a stage win.
La Vuelta a Espana 2022 stage 12 predictions
★☆☆☆☆ Primoz Roglic
He is losing men to Covid everyday. He is being beaten by Remco with continuously increasing difference as the race evolves. Yet, we know the man is not beaten. He is calm and definitely still has something under his sleeve.
★★☆☆☆ Louis Meintjes
The Southafrican took an emphatic win on Sunday and will be hoping to repeat his feat. His biggest objective nevertheless will be to get into the breakaway and get some time back to integrate the Top 10
★★☆☆☆ Thymen Arensman
It broke everyone heart to see him being asked to pull back from the winning breakaway so as to avoid him making any potential useless effort. This time, if he manages to get into the breakaway of they day, he will be continuing his effort and his deception of the other day will drive him over the last climb.
★★★☆☆ Remco Evenepoel

He will miss his teammates. It is nearly impossible for the wolfpack to keep the breakaway in sight over 170km to then allow Remco to do his things. With a smaller peloton, and a large amount of opponents with an arm length from him, don't be surprised to see Remco ending up in the main leading group while trying to respond to attacks.
★★★★☆ Thibaut Pinot
Breakaway mountain is now synonymous with Tibopino. The Frenchman will make sure that he is in the front group comes the start of the climb.
★★★★★ Jay Vine
After seeing him fly over two stage mountain win, he is the favourite for this one. The only question is to whether he will want to follow moves particularly with not a lot of KOM are in play?
Special mention: It is coming but we just dont know when. A repeat of the Giro 2022 stage 14 embuscade by Bora Hansgrohe will happen at one point. With Jai Hindley down by 9:24, the german team will be acting very soon with very strong riders still present in in the race. (Higuita, Kelderman, Fabbro)
An exclusive post by A LeadOut for Cycling.today
Watch live and free: La Vuelta a Espana 2022 – stage 12 on