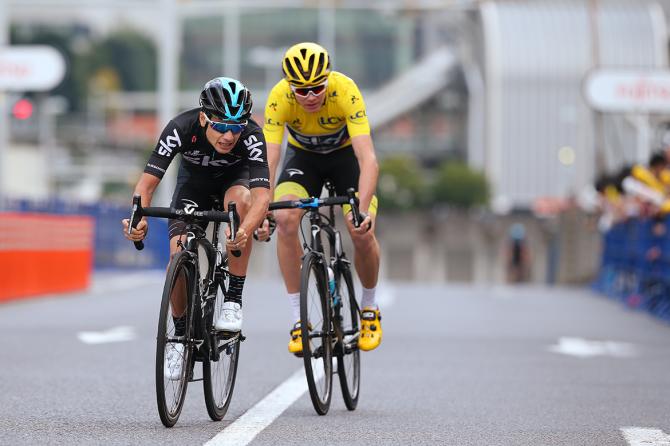 Back in January, Kenny Elissonde was two hours into a training ride in Australia when coach Tim Kerrison rolled up alongside him and training partner Chris Froome in the team car. "Kenny, this isn't a joke," he said. "You have to go to the airport!"
With Owain Doull struck down by appendicitis Elissonde was called upon to replace him in our Tour Down Under team. 24 hours later he was making his Team Sky debut in Adelaide, setting the tone for a whirlwind season that the Frenchman told TeamSky.com he has relished.
Reflecting on the campaign Kenny Elissonde was quick to highlight all that he had learnt across a year of change.
"I expected a challenging year because it was a big change," he opines. "Every time a rider changes teams it's big, but I had been in the same team [FDJ] for a long time before moving here. So it was new training, a new race programme, a new way of racing… I discovered a lot of new things and I'm really grateful for that. It was big for me to be a part of this."
"Everything that was new won't be anymore. For example, flying over to the team's annual October camp recently, I knew what to expect – there was no stress or worry heading there. I know what is laying ahead of me – what the team and my teammates will want. "When I say the change was challenging, it's all of those little things: racing differently, training differently, and I'm really happy that I had this chance. It has helped me a lot."
Asked for his highlight of the year the Frenchman picks out the Giro d'Italia. Despite ending in disappointment when he was forced to abandon on stage 16 due to injuries suffered from a crash the previous day, he believes the experience has stood him in very good stead.
"It might seem strange," he begins, "but one of the biggest moments for me was the Giro. It was really hard, but it helped me a lot for the rest of the season. It was my first big setback in the team and you have to go through these moments to be a better rider. It might surprise people, but it was a good thing for me.
"The Giro helped me a lot to learn some more details about how the team works as well, and afterwards I was more relaxed. When I started again at the Route du Sud I was better, and then at the Vuelta a Burgos I was better again."
He also highlights Australia as a high point, and references training and then racing alongside Chris Froome for the first time – someone who it's clear he looks up to.
"You can learn every day with him. He's quite chilled and off the bike he is a very kind, relaxed person… But on the bike he is a beast! Even in the bunch he is a real fighter. When he gets on his bike with numbers pinned on his back he's not the same person anymore! He doesn't give an inch. You can learn a lot from that.
"Then there's his dedication. Everyone talks about this, but it's true: from January to the end of his season, he is the same. It's not even his results. Take away his results, it's his way of doing things, dealing with things. As a leader he can lose one minute, he can crash, and he doesn't give up. His mentality is always the same. He is as strong in his mind as he is physically."
"We will have a chat in the new weeks and I would like to do more Grand Tours – I would love to do the Giro and then the Vuelta. You learn a lot from doing these races with the team – how we recover, and the ways to deal with it all.
"The reason I learnt a lot at the Giro is because I was in the team environment for three weeks, riding with Landa and G. Learning not to get overexcited when everything is really good or too sad when it's bad. The Giro helped me a lot for the second part of the season.
"Even if you have been in the team for a long time, the team keeps bringing new things to the riders. We are always dynamic. As a rider, for the experience, it's really good."