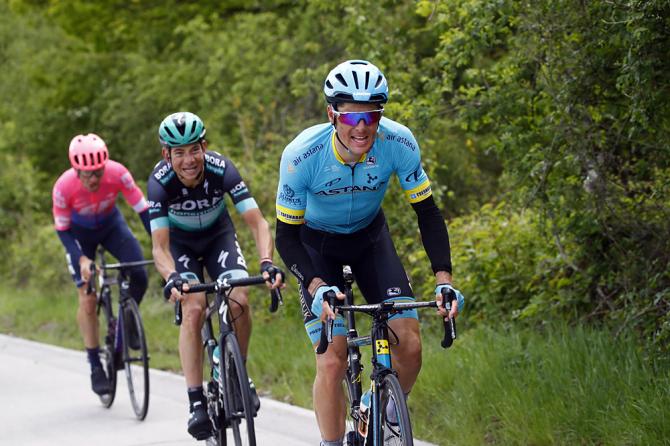 Jakob Fuglsang has finally turned his classics consistency into a big win at Liège-Bastogne-Liège. 
The Dane attacked from the peloton on the final climb of the day and dropped his companions in the break to take his first monument victory, at the age of 34.
"Before we took the speedy downhill to La Redoute, I was in the wheel of Luis León Sánchez and he was in the wheel of his guys. I looked over at him [Julian Alaphilippe] to see if I could get any sign of how he was feeling and he looked back and said to me 'I hope you win today'" said Fuglsang.
"I looked back and said 'thank you and good luck', I think he probably knew then that he wasn't at his best or the Cote de la Roche-aux-Faucons was going to be too hard for him."
"It's an amazing feeling and a super way to finish off these three Classics. It's been a big goal for me this week and to crown it off with a victory today in such a race, it's just amazing.
"I dont know why it took so long," the Dane said, "the first few years I had to grow up first, but no this season it seems like everything has come together and everything is going well and we have a really strong team.
"They led me out perfect for the Roche-aux-Faucons and yeah everything seemed to click. It took some time [to claim a Monument win] but I hope I have another few good years in me."