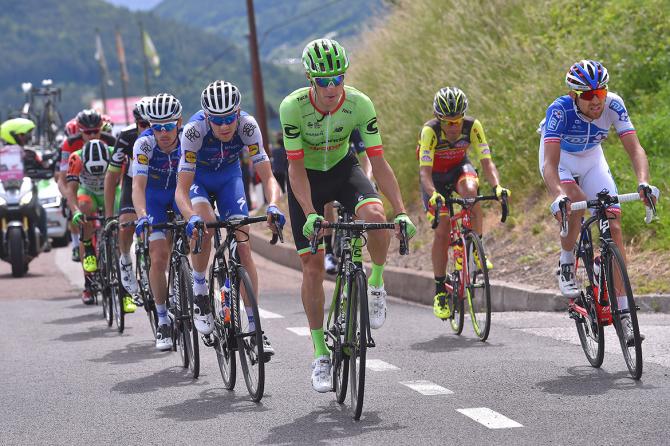 Pierre Rolland (Cannondale-Drapac) – stage winner
"This is my biggest win since Alpe d'Huez, and it really means a lot to me. Last year, I prepared 100 percent for the Tour de France. It was my first year with Cannondale-Drapac, but it was a black year. I crashed, and all was lost. I was very disappointed. This year, I took a different approach, and prepared 100 percent for the Giro, but with the idea of winning a stage. I tried a few times, and came close, but I knew today was the day."
"I attacked from kilometer zero. I knew today was the day. It was very difficult. We made it up the climbs, but there was movement behind, and my sport director gave the right advice to wait for the bigger group. I tried to save my legs for the final."
Rui Costa (UAE Team Emirates)
"I missed the victory for the second time and it's a pity because today my legs felt really good. I'm however very proud of the impressive team effort showen by UAE Team Emirates today, there were four of us in the main breakaway driving the pace of the leading group: myself, Polanc, Mohoric and Conti. Towards the end of the race there were a lot of attacks and it was not possible to keep up with them all. Overall I am happy with the results".
Tom Dumoulin (Team Sunweb) – race leader
"I was never worried. We needed to chase harder than expected, but I was never worried for my jersey. I knew the other teams would stress before us. They waited, waited, waited, for a very long time before coming to help, but that's their decision. Polanc moved above some guys but that's their problem – my jersey is safe. My boys did an amazing job today."
Gorka Izagirre (Movistar)
"It's bitterwseet in the end. It really wasn't the goal to get into the breakaway to win the stage, just like in Peschici, but there were so many riders going off the front and we had to keep some people into such moves. It was difficult to win, because with so many teams having three, four, even five riders in, you can't fight with the same strength when you're only two. Plus, I feel like we were kept an eye on by many today.
"Rory and I did very well covering the attack in those final kilometers, but you can't go past every move. Rolland just made the right one. I was keeping the wheel of Rui Costa, but it wasn't done just by following one dangerous rival, because there were many top contenders into that group.
"I'm getting to feel really strong in this Giro. Tomorrow will be a crucial stage, one of those that decide the overall outcome. It should be really tough for all of us, whatever the race scenario. I've got good legs and will give my best to help Nairo out."
Rory Sutherland (Movistar)
"It was a hard stage, especially after yesterday. We wanted to be represented in the breakaway, but Gorka and myself were in in the beginning just to make sure that we kept things under control if anything happened in the back, if the classification riders caught up or if anything happened. Then it became kind of certain that we were actually going for the victory.
"With about 80km to go it started getting pretty hard, with lots of gaps and attacking. Gorka and I covered all of those well, even in the finale. Then, it's Murphy's law that the one attack that goes and you don't chase is the one that makes it to the finish line. However, we can be proud of the day, I think. It's frustrating to not be able to pick up a win when you've got that opportunity, but that's the beauty of cycling.
"We now go on to tomorrow and another hard day. It's back to work for Nairo, even if today was the same but in a different situation, keeping the team present in the break. Tomorrow will be another important day in the GC, and hopefully we can move closer to that pink jersey."
Tejay van Garderen (BMC)
"I wouldn't say I necessarily had this stage in my mind. Any day is an opportunity so you just have to try. For a second it looked like they were happy to let the first attack roll off. I think it was Bahrain-Merida who started pulling it back and that just opened up the race. Then I started following moves when I could. The move that ended up getting established was a big one. Usually when it is that big it doesn't really work well together so there had to be a bit of reshuffling in the middle."
"I was feeling good, I was following moves. It was a bit confusing because Max Sciandri on the radio said to try and have it as a sprint for Fran Ventoso and I should follow moves. So, I was trying to follow but obviously you can't follow everything. Then I heard that Fran was dropped but I was a little tired from trying to cover a bunch of moves. In the end we came up a little short but it was good to be up there. A couple of guys were trying to pull [Rolland back], a UAE Team Emirates guy and a Quickstep Floors guy who had some faster guys in the group. I was trying to attack to see if I could get one or two strong guys to go clear and we could catch Rolland back and work together. But there wasn't a whole lot of cooperation going on."
Mikel Landa (Team Sky)
"Today wasn't especially hard, but after yesterday it was quite an effort as yesterday was such a a hard stage. We have three days left so tomorrow is an opportunity. We will try and keep on racing every day as a day race and see what we can pick up."
Julien Bernard (Trek-Segafredo)
"It was hard to get into the break today, and it was a big break that finally went, and it was not easy to manage it well to try and go for the win. One moment I was in a really bad position and 20 guys escaped in the front.  I had to make a big effort before the last GPM, and I gave all to come back to the first group. I followed (Omar) Fraile and (Gorka) Izagirre, and we came back fast."
"After this, it was strange because no one pulled, just UAE (Team Emirates) I think for the GC for (Jan) Polanc, so everyone was well recovered before the last 20-30kms. And in the last 20kms, you had to follow a good wheel, and you needed a good moment."
"Rolland was very strong, he made a very good attack in a good moment, and I could not follow," said Bernard. "In this moment, I needed to make a choice, and I preferred to follow the big group."