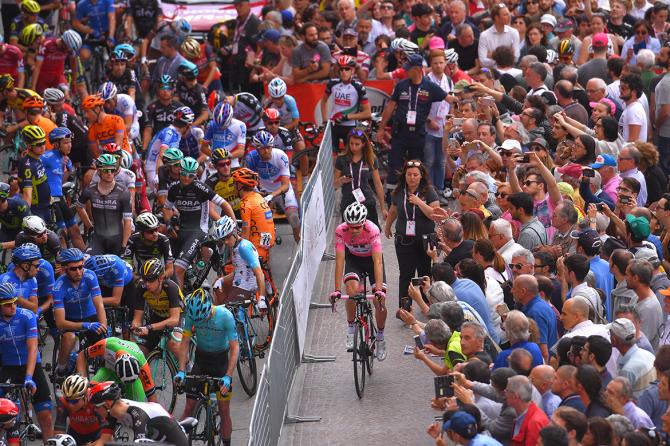 Fernando Gaviria (Quick-Step Floors) – stage winner
"It's been a different sprint today and a difficult sprint indeed but thanks to my team I managed to go back up and win one more stage. I'm now the Colombian with most stage victories at the Giro but it doesn't mean much. To me it means that I came to the Giro well prepared.
"The curve was very complicated because you could take it from the outside, like [Max] Richeze and [Davide] Martinelli, but I tried to take it from the inside. But Sacha Modolo anticipated me so I was a bit boxed in. I managed to find a bit of space, and when I decided to come past Max and I made sure he saw me so that he wouldn't close the door. He did a great job, a stupendous job, and we achieved a win for the team and for Colombia."
"I was lucky today. I was lucky to have the space. I'm lucky to have the legs and loyal teammates. Perhaps there are stronger riders but I had the luck."
Sam Bennett (Bora-hansgrohe)
"Like I said yesterday, the team did an amazing job and also today. We rode perfectly into the finish I don't know what happened, the headwind was quite strong but I missed the victory by bike length. Gaviria came from behind and I couldn't react anymore. I am disappointed but also happy with the second place. However, I got fourth podium results in this 100th edition at the Giro d´Italia which is really special anyway."
Jasper Stuyven (Trek-Segafredo)
"It was really an impressive ride from Mads," said Stuyven of his young Danish teammate. "He was so strong; I saw a lot of guys pulling off, and he just kept riding there in the wind. Yeah, it was really impressive, and of course, it was more to keep Bauke safe, but I could take advantage of it."
"Then with 5.5kms to go, at the big roundabout, I could start to go for my own way," continued Stuyven, "and I followed some wheels. I think I was good – I had to do a little acceleration into the wind just before the left-hand corner, but I think it was also good to get it going in the slightly downhill. But yeah, Gaviria was on a higher level."
"Yeah, third place," Stuyven said, hesitated, then added," Yeah, it's not bad. Of course you want to win, but if you look at how everything goes, I have to be happy with it. But on the other hand, I am still aiming for that victory."
Roberto Ferrari (UAE Team Emirates)
"We faced some crosswind in the final kilometre to the last left hand turn which made it difficult to be in the lead. My legs are in good condition and the light descent at the end of the route helped increase the speed of my sprint. I tried to maintain a high speed sprint and that helped me to cross the finish line in 4th place. It would have been great to be on the podium today as this is the last sprint at the Giro, however fourth is a pretty good place to be and Gaviria was impressive and deserved the victory."
Caleb Ewan (Orica-Scott)
"At this level you have to have a lot of things go right for you," Ewan said at the finish. "I feel like I have had a lot of frustrations this Giro, things can go either way so easily in a sprint, but I am happy to have gotten a stage win here this year which is an improvement on 12months ago.
"Today was a really strong head wind in the last ten kilometres so we knew we had to wait a little later than usual to move to the front. The team rode really well again and we were doing everything right up until that final sprint again.
"I feel good physically. I felt good yesterday and I felt good again today. I will continue the Giro day-by-day. When I feel myself too deep in fatigue it will be time to stop and focus on the other races I have coming up."
Phil Bauhaus (Team Sunweb)
"It wasn't easy with the cross winds going into the final. It made things pretty difficult. I was in a good position but then on the last corner I lost it as too many people passed me on the outside. I come out of the 'sprinters' stages feeling pretty happy with my results, considering the sprint isn't my main focus things have gone well."
Tom Dumoulin (Team Sunweb) – race leader
"Today was once again a great job from the team. Looking ahead to tomorrow, things will be pretty steady during the day and then it will be full gas onto the last climb. The coming week will be more tricky but we just have to stay calm, stay sharp and hope for the best."
Dario Cioni (sport director at Team Sky)
"Losing G is a really big loss so we are having to reset our goals in this race. We still have some really good riders in the race, starting with Mikel Landa and some other guys who are really riding well. Today obviously wasn't our stage without a sprinter here The main goal of the today was to get from A to B and get ready for the next days."