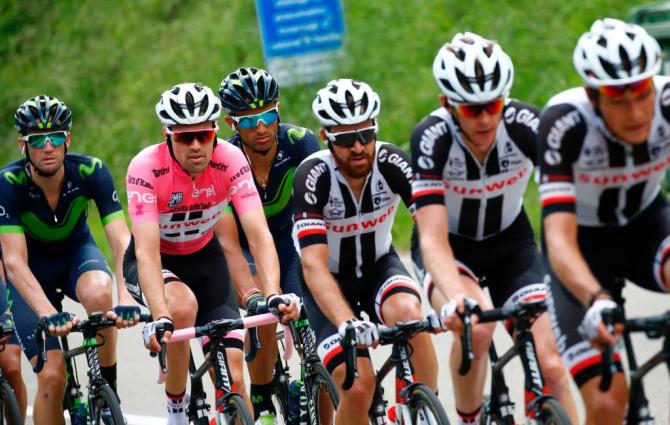 Omar Fraile (Dimension Data) – stage winner
"I can't believe it! This is incredible. I knew this stage was good for me and I had already marked it in my road book. 17 is my lucky number and this morning, when I talked with my girlfriend on the phone she told me "Today is your day". She was right. When Landa attacked, I thought it might be a good idea to follow and see what happened. We then got caught again and while the others were attacking on the last climb, I just kept my own pace and managed my effort until I was near the top and then I attacked. In the sprint, I knew Rui Costa was the man to beat. However, I'm also fast and I had very good feelings in my legs today. This is the best day of my career".
Tom Dumoulin (Team Sunweb) – race leader
"The stage went exactly like we expected," Dumoulin said. "It was a hard fight on the first climb to get in the break. We knew some guys at 5-6 minutes would attack and we never stressed. We had Laurens [ten Dam] in front and behind were always in control. It's nice to have a nice gap on GC. It gives me more time to play with. We were never in stress and the team was always in control. It was a perfect day."
"Laurens used to live near me in Maastricht for a long time but now he's moved to the north of the Netherlands. I used to train with him quite often and he made me realise what the life of the cyclist really is. He was really important to me like that, and now he's in our team. Off the bike, too, he's super important. Today he was amazing once again. He has so much experience, and he's like a good wine: he only gets better with age."
Andrey Amador (Movistar)
"We were focused on starting the stage at the front, because we knew that so many riders would like to have a shot at the day's break, and we also wanted to see how the leader's team-mates would react if we got some people into the moves. When the escape was almost gone for good, I jumped across with Kangert, we reached them down and the break was given green light. The problem was, many riders into the group did not take any turns, we were handed all responsibility from them at many times – that all made the gap not increasing really much.
"It was a pity not to be able to fight for the stage win either, but you can't go for everything when you've spent the entire day taking strong turns at the front. We're happy, though, because everything behind went OK with Nairo – our goal was to keep the race tense and nervous, make it fast and see how Sunweb reacted. They seemed to do just fine today. No big gaps at the finish indeed, but it was a tough day in the end for everyone.
"That terrain I was able to make up could become important from a strategical point of view, I think. I've somewhat become a dangerous rider GC-wise, and for what it could be worth in the team's tactics, I'm there. It's a good thing to have me up in the standings when it comes to our only goal, which is winning the Giro with Nairo. Let's hope my legs and all of our team-mates' continue to respond well, so we can remain by his side for as long as possible."
Nairo Quintana (Movistar)
"We didn't see that real weakness within the main GC contenders, but surely stages like these, with huge pace and all those climbs, will take its all on everyone. We continue to look forward, seeing how we can move and profiting from every chance. We took almost two minutes back with Andrey today, so I think our situation continues to improve. We'll get to Oropa on Saturday with already two weeks of racing on our shoulders, so it should be a more demanding finish which we will try to profit from to gain some more terrain."
Rui Costa (UAE Team Emirates)
"It was important that we joined a breakaway today and I worked really hard to be able to achieve that. I tried my best to pursue the attack and win, however towards the end I was exhausted. I guess I am a bit disappointed that I didn't manage to win the stage especially after being so close. But it's ok, the Giro is a long race and there are more stages to come that will surely provide similar opportunities. The most important thing for now is to remain focused and do our very best."
Tanel Kangert (Astana)
"We knew it could be a difficult stage and either me and Cataldo remained at the front since the first km to pay attention to any attack…".
"In the fast final I saw the three guys at the front they were not far from us and I jumped on them, then it was not possible to surprise them before the sprint because we had a bit of wind in face and the road was lightly rising… anyway I'm satisfied because I have recovered almost two minutes in the GC"
Ben Hermans (BMC)
"I had to wait until the climb because together with Tejay van Garderen, I'm better in climbing than the other guys who tried on the flat part and the beginning of the climb. Then it started to really string out. I moved up forward and I tried in a break, but I didn't succeed. Then, 25 guys went and I had to attack across to them but this was the right move because otherwise, we were chasing all day in the back."
"It was strange because there were some teams with many guys, some teams with three guys, some with two. So I would say every team had someone to work and finally, you could have eight guys who could turn the group. They waited until about 30km to go to make a good tempo and then it was only Movistar Team and one Cannondale-Drapac guy chasing. Finally, it was enough to go for the stage win but we could have taken so much more time if we had worked well together. I was gambling on Giovanni Visconti in the final because it was too late to go across [to the final four] alone. Tanel Kangert did it but then you also lose energy for the sprint. We came back at 600 meters from the finish but it was just too late. I had the wheel of Visconti and I tried to sprint but I didn't have the power anymore to pass."
Geraint Thomas (Team Sky)
"I'm going to pay it day-by-day and see how I get through the next two days and see how I am and after that I'll have a clearer picture,".
"There's a couple of easy days coming up which will hopefully play to my advantage. I was suffering all day and I had a really sore knee as well and I just had to finish as best I could.
"I felt worse than yesterday, it was only an hour on Monday whereas today was four and a half hours and I was suffering all day."