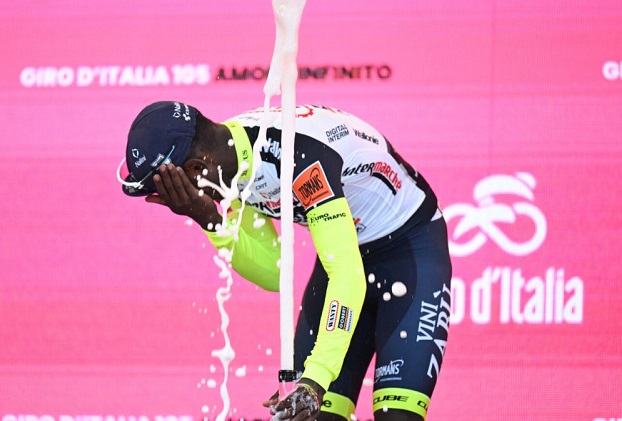 Biniam Girmay pulled out of the Giro d'Italia with a left eye injury he suffered after being hit by a prosecco cork while celebrating stage 10 victory.
Girmay became the first black African to win on any of three grand tours after claiming the honours on Tuesday's 10th stage of this year's race, between Pescara and Jesi.
Intermarche's team doctor Piet Daneels said tests showed "haemorrhage in the anterior chamber of the left eye".
"In consultation with the medical and sport staff, the decision has been made that Biniam Girmay will not take part any longer in this Giro d'Italia, which he is leaving with a stage victory, a second place and three other top five finishes," Intermarche said in a statement.
"The injury is moving in the right direction but in order not to aggravate it it has been strongly advised to avoid intense activities."
The cyclist had placed the bottle on the floor and bent over it as he undid the binding before the cork flew off hitting him from close range.
Girmay was treated at a hospital in Jesi before then heading to a party held by his team in the seaside resort of Riccione on Tuesday evening.
He is due to have further tests on the eye and left the team hotel on Wednesday morning with his manager after bidding farewell to his team-mates.
Girmay leaves the Giro second in the sprint points race, just three points behind Arnaud Demare on 151, with Van der Poel third another 58pts behind.