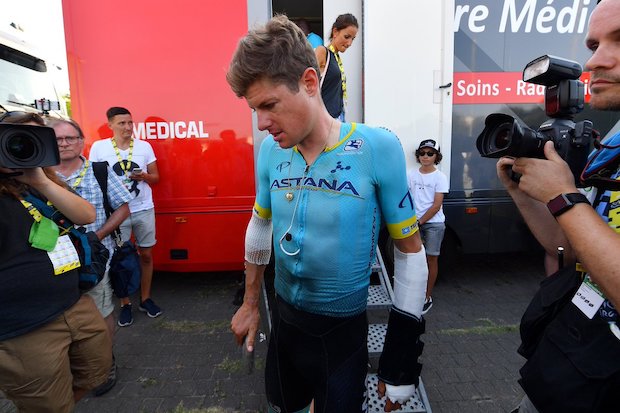 Jakob Fuglsang was forced to abandon the Tour de France after a crash in the final 30km of stage 16.
Despite a strong spring campaign, Fuglsang went into the second rest day in ninth place, 5:27 adrift of Julian Alaphilippe.
"I'm really disappointed about leaving the Tour de France this way, but there was too much pain to continue," said the Dane. "Somebody crashed in front of me and there was no way to avoid it, so I crashed over my handlebar. My hand directly swelled up and I could barely stand on my feet, I directly knew my Tour would finish here.
"I was very motivated for the final week and I was ready to battle for a higher position in the GC. That this has to be the way of missing out on this battle, is just very disappointing. Now all the focus will be on recovering, both physically as mentally, because the Tour was a big goal after my wins in Liége and the Dauphiné."
Fuglsang was taken immediately to undergo further examinations that ruled out any fractures and confirmed heavy contusions and abrasions of his hand, arms and knees.