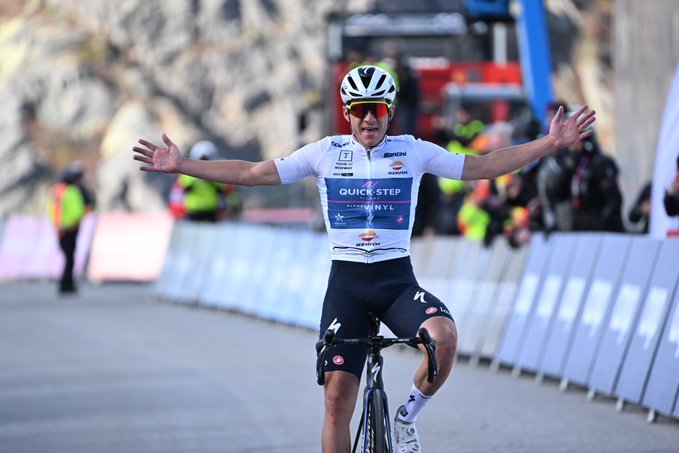 Remco Evenepoel celebrated for the second time in three days at the Tour of Norway, after dropping all his rivals on the tough Gaustatoppen climb (12km, 8.2%), five kilometers from the finish.
With 70 kilometers remaining, crosswinds split the bunch just as they did on the previous stage, leaving only 20-30 men in the front, including the young Belgian, who had Kasper Asgreen to shelter and guide him to the bottom of the last climb.
Evenepoel made a major selection midway up the ascent, a huge acceleration leaving only Luca Plapp and Jay Vine with him. He didn't stay too much there, as another attack a couple of minutes later proved to be decisive, dispatching the duo and paving the way to a win that will see Evenepoel start stage four with a gap of 46 seconds over Vine.
"I am happy. It was quite a long day, with headwind in the beginning, then crosswinds which again played a major role, but luckily, I had Kasper with me there, and I want to thank him for his work," said Evenepoel.
"Then, on the climb, I didn't know how far we were from the finish when I made my move, but I felt good and I just kept going. I was a bit surprised of how the legs reacted, so I continued to push hard to increase my advantage. It was a long effort, but at the end of the day I am delighted with this victory and the gaps in the GC. Now we'll try to control the race and see if there will be any other opportunities for us until the end of the week", explained Remco, who in addition to the overall standings, also leads the KOM and youth classifications.