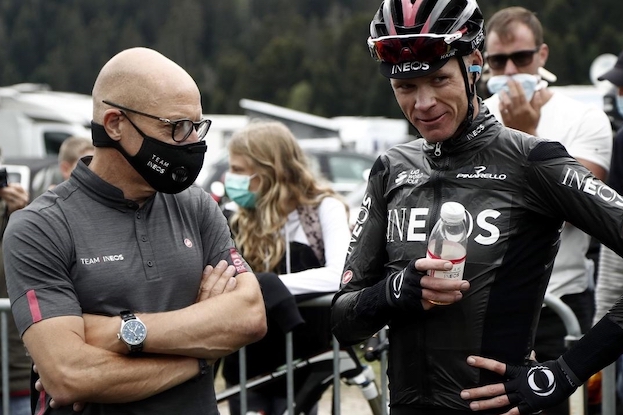 Dave Brailsford says he didn't gambled with his Tour de France selection by discarding Geraint Thomas and Chris Froome, but admits that the dominance of Jumbo-Visma will force the Ineos Grenadiers back to the drawing board.
Egan Bernal struggled again during stage 16 of the Tour as he hid in the gruppetto, finishing more than 10 minutes from the GC group.
"I don't gamble," Brailsford said. "People are entitled to their opinions, but I didn't gamble with selection. They were big decisions. Sometimes they work, sometimes they don't. I'm sure that people have a lot to say but they're not privy to the facts that I've got.
"He's not in pain. It's more a case of assessing what went wrong, which is what we are doing. Clearly there was something wrong because that wasn't his normal performance on Sunday.
"He wouldn't normally be out of that lead group — he might be 30 seconds better, 30 seconds worse — but he'd be in the mix," he said. "But he's proud. It's not in his nature to quit."
"I think without doubt he's had a successful young career," Brailsford said. "Not many come back after winning their first Tour and win again. He's very mature, talented and capable but he's still only 23. I was worried that he might get old before his time because he needs to be allowed to be 23.
"He can 100 percent come back from this. In sport, sometimes you need to lose and then you can go again."
"It's way too early to say, we have to go through the Giro and the Vuelta first," Brailsford said. "Then of course there will be a question about who does what race in 2021."