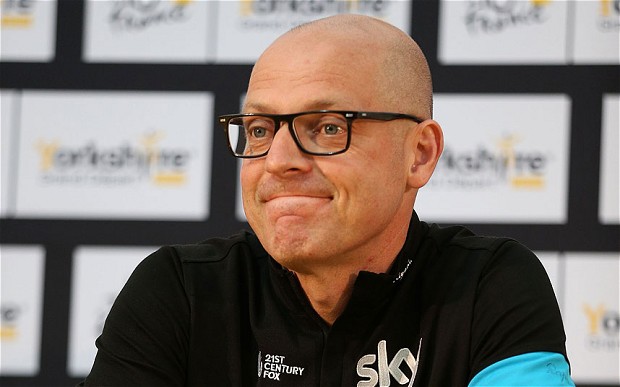 Dave Brailsford admitted that he had considered resigning, as Team Sky's Giro d'Italia got off to a hugely uncomfortable start in Jerusalem, with Chris Froome having to fend off questions over his ongoing salbutamol case.
The former performance director of British Cycling has kept a low profile this season. This was the first time he had spoken at all since the publication of the Digital, Culture Media and Sport select committee's report which concluded that Sky had effectively "played the system" by giving Therapeutic Use Exemptions to Sir Bradley Wiggins before three of the biggest races of his career, including his victorious 2012 Tour de France.
"I think anybody in this game considers their position every day," said Brailsford. "I'm constantly asking if I'm the right man to lead these guys — it's not about me."
"I think that regardless of the DCMS or anything else there's a constant sense of self-questioning about whether I'm appropriately placed or have the right skills to be able to do that.
"Some things come and go, the situation and context around you changes, but I'm here because I think I am still in the position where I can help these guys be the best they can be."
Brailsford declined to respond when asked if the team would apply its own policy and part company with Froome were he to wind up with a suspension.
"With respect to the Giro, we're here to talk about the race," said Brailsford. "For the time being, we're here to focus on the fantastic start in Jerusalem. I don't think this is the appropriate venue. We're here to concentrate on the race and on the press conference about the race."