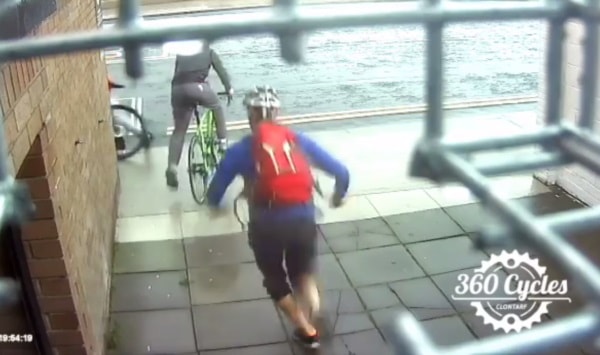 The cyclist who became an internet sensation when a video of him tackling a bike thief went viral has said he only had a split second to act.
The video shows Marius Judickas parking his carbon bike outside an apartment complex in Dublin. He leaves it for just seconds and in that time a pair of young men walk by and one of the men grabs the valuable bike and moves to cycle off but the owner is quick to react and jumps on the thief's back.
"It was bank holiday Monday and we should have been closed at 6pm but we were very busy so I stayed longer," Judickas said. "I had brought my bike, which is a carbon Merida Cyclocross 5000, outside and was just locking the door of the shop when I sensed it moving," he explained.
"Then I just heard somebody shouting 'go, go, go' so I knew there was something wrong and when I looked around I could see the guy on the bike trying to get away," he added.
"I wasn't thinking. There was no strategy, it was just instinct. We ended up on the road and I got up and stepped away. The guy had an injury to his face and he hung around for a second, and that's when I saw the other guy coming back,".
"It looked like they were going to have another go but they changed their minds and left. I just wanted to keep both of them in my line of sight just in case one of them would try and attack me," he added.
"The bike is slightly damaged. The brake rotors and levers and the saddle are bent but it's better than having the bike disappear,".