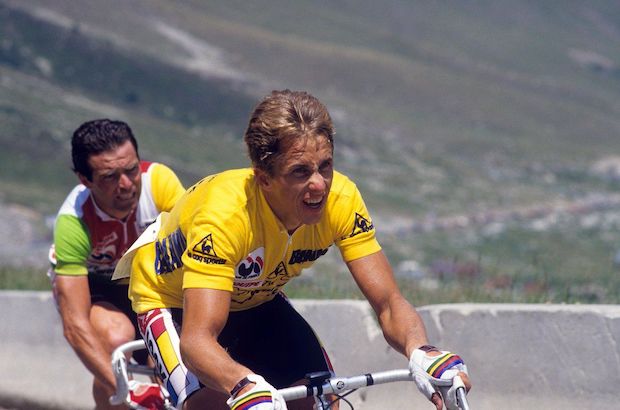 Greg LeMond is America's only recognized Tour de France winner, yet his three Tour victories tell only part of his story.
LeMond changed cycling more than any other rider in the history of the sport. LeMond was a talented all-rounder, with a reputation as one of the canniest racers of his generation.
As adept at racing on the cobbles of the spring classics as he was on the mountains of the grand tours, LeMond rode a full racing season from spring to autumn. His never-say-die spirit also bagged him two World Championship titles and a hatful of podiums at the world's toughest bike races.
He was admired by his peers and respected by his rivals. Yet Greg LeMond's influence on cycling extended off the bike as well. He was the first cyclist to command a $1 million salary, raising the stakes for all other teams and riders and pushing the Tour organization to reach more spectators through expanded TV coverage.
LeMond was the first cyclist to focus almost exclusively on winning the Tour de France and the World Championship, knowing they were most valuable to his fans and sponsors. His superstar talent and charisma broke cycling into the mainstream media with multiple turns as Sports Illustrated Athlete of the Year. Greg LeMond raised cycling from its provincial roots into a professional sport with global reach.
But LeMond's story took a tragic turn in 1987: While out hunting, he was accidentally shot and lost so much blood that his life hung in the balance. His eventual recovery was as miraculous as what happened next: he came back to the world of bicycle racing to claim victory in the Tour de France in the closest finish in the history of the race.
Away from LeMond's glittering palmarès, his willingness to question the norms of a staid sport revolutionised bike racing. His inquisitive mind led to that 1989 Tour win, tri-bars and an aero helmet contributing to the remarkable victory as much as his legs. Other experiments, such as the bizarre Scott Drop-In handlebars, were less successful, but LeMond was never afraid to test the boundaries when it came to his equipment choices.
After retirement, in an era of omerta and not 'spitting in the soup', LeMond has always been an outspoken critic of drugs in cycling and dopers – most notably, Lance Armstrong.
At a time when it would have best served his business interests to keep schtum, LeMond repeatedly accused his American successor of wrongdoing when others preferred to hold their counsel. He was, of course, proved entirely correct.