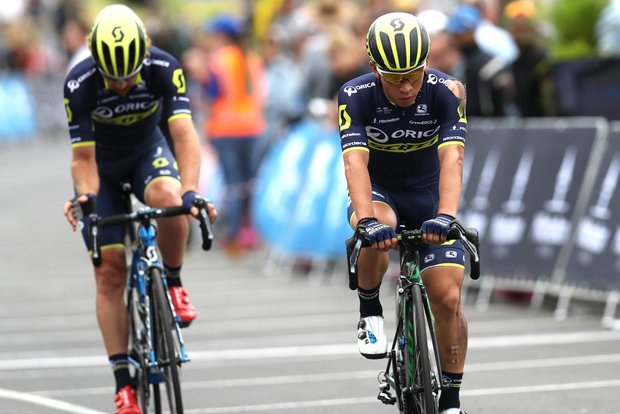 Reigning champion Caleb Ewan crashed in the closing metres of the opening criterium of the Mitchelton Bay Cycling Classic in Geelong today.
The 22-year-old led a diminished bunch into the final corner, looking to capitalise on the work of his Orica-Scott teammates, before his bike slipped from underneath him and he hit the road.
Ewan, who lost some skin on his left side but was thankfully uninjured, was unsure how the crash occurred.
"I'm not exactly sure what happened," Ewan said. "I have hit that corner so many times in exactly the same way, if not faster, and haven't had an issue."
Earlier in the race, it was the solo move of Cameron Bayly (IsoWhey Sports Swiss Wellness) who animated proceedings. Bayly rode out to and held a 15second advantage for much of the hour of racing with Orica-Scott, led by Luke Durbridge and Michael Hepburn, taking up position at the head of the peloton in pursuit.
With three laps to go, the race came back together and was set for the predicted bunch sprint. Mitch Docker led into the back straight before Ewan took over at the front ahead of the final corner.
Escaping the carnage, the opening criterium was eventually won by Ian Bibby from Condor JLT.
"It's frustrating to be in that position, wanting to deliver for the team who chased all race to support me, and to crash," Ewan said. "But, there's no major damage, just a bit of skin. There are more days to come, so we will keep trying."