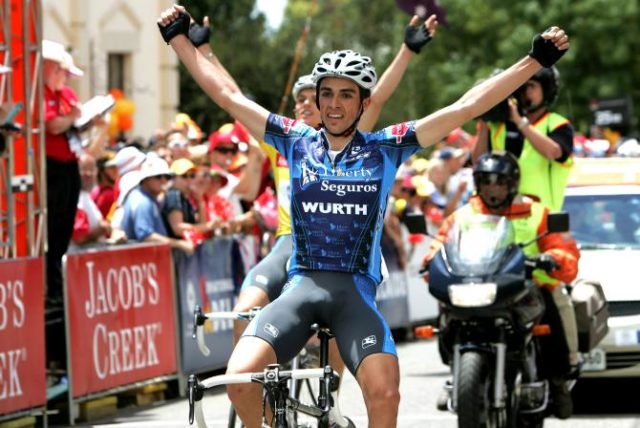 Alberto Contador is part of an elite list of pros and former-pros who can count victory in all three Grand Tours throughout their careers on their palmarès.
However, when asked which career result means most to him, Alberto Contador doesn't pick any of these. Instead, it's smaller race, but one which had a special emotional significance.
Because of this, his stage five win in the 2005 Tour Down Under is the highlight he nominates.
"I had previously undergone brain surgery [for a cerebral cavernoma – ed.], and no one could tell me if I could ever sit on a bike again, or if I would be able to race. I have since won many important races. But from an emotional point of view, it was the most important victory for me," he stated.
Contador's stage five victory at Willunga in South Australia was his first success, in terms of results, after recovering from cerebral cavernoma, a condition that he was diagnosed with early in 2004 after he passed out on his bike while racing the Vuelta a Asturias in Spain.
Alberto Contador may have died from the build-up of pressure in his brain after he bled from a small vein had it not been for the surgery he underwent. Eight months after that operation, he was on the winner's podium at Willunga.