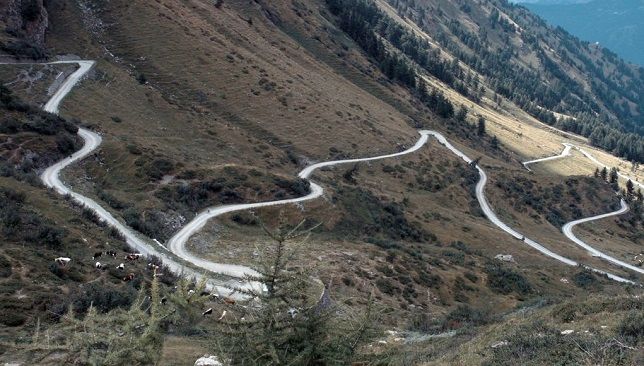 The latest video from The Col Collective sees Mike Cotty take on the Colle delle Finestre.
He says: "It took all but an hour during the 2005 Giro d'Italia for the Colle delle Finestre to become a cycling superstar. I remember watching the race and as the road turned to dirt thinking "what on earth is this climb? Man, I've got to do this!" It was right there on the spot that my (let's say, mild) obsession with the Finestre began and, having been back from time to time to refuel the flame, that fascination is only getting stronger on every ride.
To try and describe the Finestre in words is something of an injustice. Its dense forest can feel somewhat overbearing as you wind your way up from the Val di Susa in the north, hairpin after hairpin, no respite from the gradient and seemingly oblivious to the world that's about to unfold. A near perfect line across the road with 8km to go is the true starting point at which has made the Finestre so famous, where the asphalt turns to dirt, the heart rate quickens and your inner chimp starts to squeak…..it's on like Donkey Kong!
It's as if the more you push the more the Finestre delivers. Mountain views open up before you as you pick your line through every turn and climb towards its 2,178m summit. If I can offer some advice on conquering this mountain it would be simple. Be prepared for all conditions, finesse wins over brute force on 'lo sterrato', take a second to appreciate the moment in the final kilometre and remember that the wheel tracks that you're riding in now have been created by some of the greatest riders and moments in cycle sport. Although this climb may not have been raced as frequently as many of Italy's icons, in some respect that only adds to the attraction. Ride it and you will soon see, words are an injustice. The experience is, and always will be, one of the most challenging and fulfilling you'll ever be gifted to do."
Start: Susa
Length: 18.7km
Summit: 2,178m
Elevation gain: 1,694m
Average gradient: 9.2%
Max gradient: 14%
Ridden in July