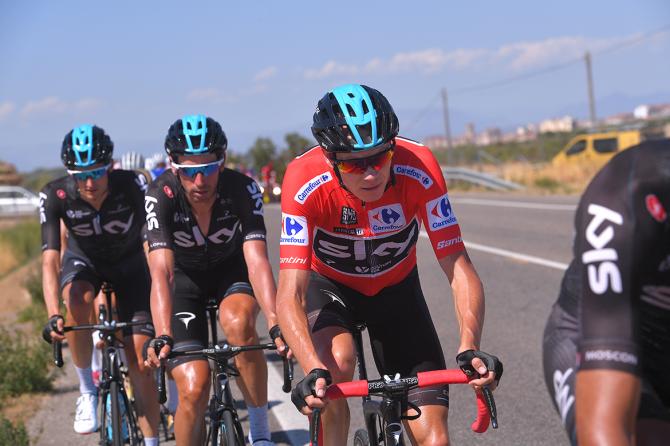 Chris Froome put in an attentive performance to maintain his race lead following a tricky finish to stage four at La Vuelta.
The Team Sky rider pushed hard to be at the front during a technical run into Tarragona, putting himself in a perfect position and crossing the line high up in the peloton in 17th place.
That ensured he retained the red jersey and his slender two-second lead at the head of the general classification, in addition to topping the combined standings.
"With a tricky final like today everyone was afraid of time splits. It was worth it to be up there and expend a bit of energy to stay up front. My team-mates did a massive job in helping me get up there", said Froome.
"It was a good day and a great feeling to be back in red after six years. It's a huge privilege to be in this position. I'm just taking it one day at a time at the moment. It was just about enjoying being in the red jersey today."
Again asked the question of whether it's possible to defend the jersey until Madrid, Froome added: "It's hard to say. I've got a lot of confidence in the guys around me. They've ridden a great race up until now. I'm not going to give anything away and we're definitely going to fight to keep the jersey as long as we can, and wherever we can – bonus seconds, finishes. There are certainly not going to be any gifts in this Vuelta."