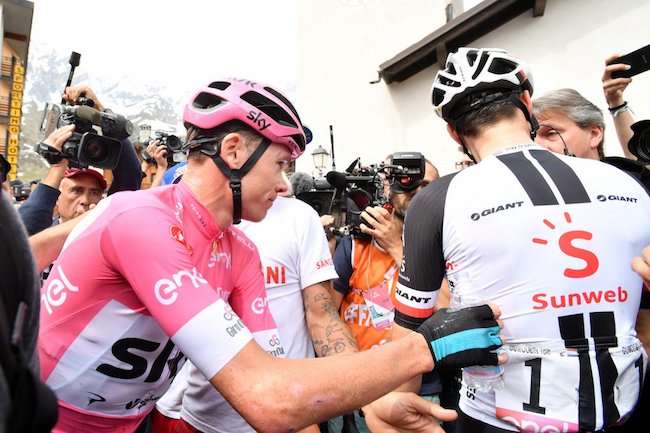 Chris Froome was equal to every attack that was thrown at him on the final climb to Cervinia in the 20th stage of the Giro.
The result means Froome stands on the brink of an incredible Grand Tour triple crown, as the reigning champion of the Tour de France, Vuelta a Espana, and soon to be Giro d'Italia.
Froome was asked about his salbutamol case and the Sky captain downplayed comparisons of his astonishing solo effort on stage 19 to such solo attacks from Floyd Landis and Michael Rasmussen.
"That's obviously something we're dealing with. I have a clear conscience," Froome said. "As I said, when the time is right, all the information will be shared with everyone and I'm sure people will see it from my point of view."
"Listen, I can understand the parallels or comparisons being drawn by some people, but I have every confidence it will stand," Froome said.
"I'd be very surprised if Velon doesn't have the data, as I've been riding around with an extra 180g receiver of theirs on my bike for the last three weeks," Froome said. "I'd be disappointed if they don't have the data."
"It feels as if this has been the battle of my career. I kept getting knocked down. There were days with crashes, days where I should have finished in front but lost time, there have been so many hurdles to overcome during this race.
"There were a lot of moments during this Giro where I felt this might not happen. At the back of my mind, I just had to keep the belief that this Giro was about the last block and the last few days, which are so difficult. If anyone has a bad day and you need to recover time, that was the moment to do it."