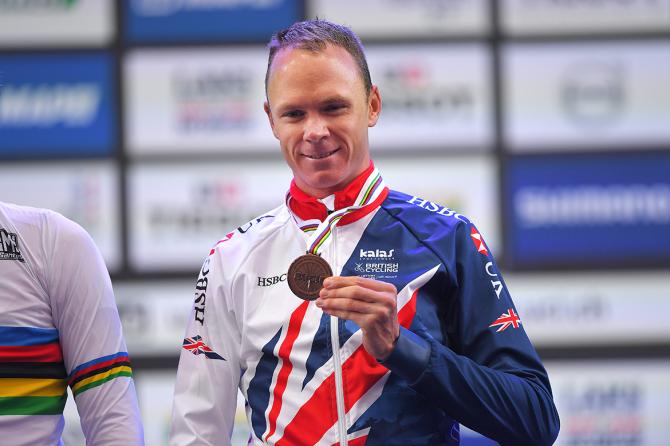 Chris Froome secured a bronze medal in the time trial at the world championships in Bergen to continue his strong end to the season.
The Briton, who became only the third rider to win the Tour de France and Vuelta in the same year earlier this month, won his first individual World Championship medal to cap a memorable summer.
"There's no excuses, the conditions were the same for Tom Dumoulin who won behind me, so massive congratulations to Tom, he was the stronger man out there today", said Froome.
"Coming to the last kilometre, obviously I was full gas there and there wasn't much time to look around but I could hear the crowd cheering behind me. At one point I glanced over my shoulder and I could see the orange jersey coming up behind me and he was flying. That didn't change anything for me."
"I've got no regrets. I gave it everything I had and I'd much rather have been here and got a bronze medal, than be at home wondering what, if so, questions answered and time to put my feet up now."
"I've never medalled in the World Championships before. It's an amazing end to what's been an unforgettable season for me. Obviously the Tour de France and the Vuelta were the highlight for me this year. Coming here on the back of that, and to give it everything I had, with whatever was left in the legs, I'm grateful to have got to the end of the season".