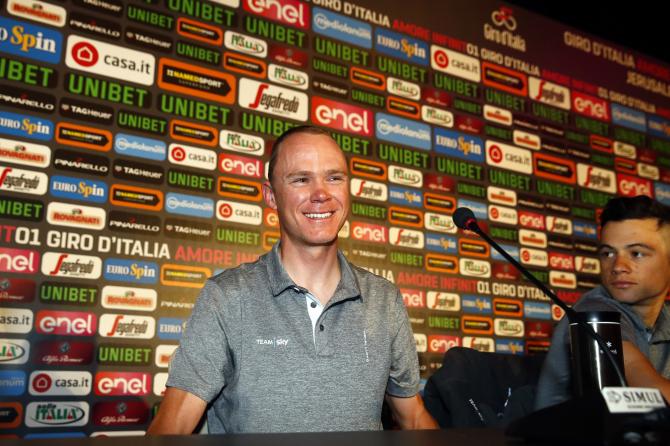 (AFP) – Chris Froome insisted Monday he still believes he can win the Giro d'Italia despite trailing race leader Simon Yates by over two and a half minutes.
The four-time Tour de France winner lost time in the mountains of the southern Abruzzo region on Sunday, and is 11th overall after nine stages.
Crashes before the first stage in Jerusalem and on the eighth on the climb towards Montevergine di Mercogliano have complicated his task. But Froome insists he's still very much in the race as he bids to become the first rider to win three consecutive Grand Tours after the Tour de France and Vuelta a Espana last year.
"It is a big gap," conceded the Team Sky leader on Monday's second rest day. "But we've got some extremely tough racing coming and we've got a long time trial as well.
"I wouldn't say it's likely at this point, but stranger things have happened.
"Whenever you crash the body is going to take a bit of an impact and I'm not pedalling the same as I normally do. That's something I hope today, the rest day, will hope compensate for a little bit."
Froome has also been under pressure in the build-up due after testing positive for elevated levels of asthma medication salbutamol during last year's Vuelta a Espana, which he won.
"I always came into the Giro with the plan of building into the race, with the bigger goal of doing the Giro d'Italia and going on to the Tour de France," he continued.
"It was never my objective to arrive right at the beginning of the Giro absolutely firing on all cylinders because as we've seen in riders who've done that in the past, they reach July and just have nothing.
"I was always looking to build through this period, but I think the crash (stage one) was a setback to me.
"I also think the second crash (stage eight) didn't help, also on my right side, but we're here and that's the nature of cycling.
"I'm here, soaking it up, and really enjoying racing here in Italy. It's been tough but it's been good bike racing."
Froome said he admired what Yates was achieving but was going to give him "a tough time in the second half of the race" with 12 stages to come before the final in Rome on May 27.
"It's a huge achievement, what he's been able to do so far, and he seems to be coping really well under pressure," said Froome. "He's got the team to support him, so he's definitely going to take a lot of beating."
The Giro continues on Tuesday with the longest stage in this year's race over a 239km hilly course from Penne to Gualdo Tadino in the Apennines.