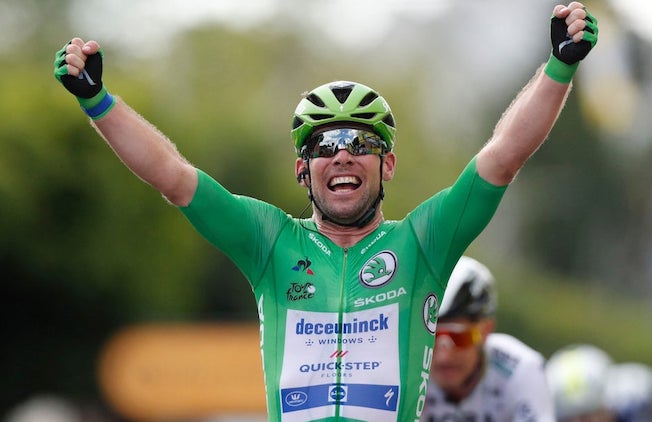 Cycling is one of the most well supported sports in the world. Each year, millions of fans will travel to watch the top events, view them on their televisions at home, and look for odds and place bets on the outcome. In both track and road cycling, bettors will use the bookmaker sportsbook to find odds  on their favourite riders and place bets in the hope that they end the competition victorious. With all the major cycling events due to happen in 2022, bettors will be looking at the betting odds once again, to see who are the favourites and who are the dark horses.
Prior to the 2022 action taking place, let's look at some of the biggest recent stories from the world of cycling.
Cavendish well and truly on the comeback trail
Sometimes in sport, truly phenomenal athletes can have periods where they completely dominate their discipline, before fading away almost completely, before then rising up again from the ashes. Tiger Woods would be a prime example, as following some non-sport related issues, he went from one of the greatest golfers of all time, to someone who rarely made the cut in the big competitions. However, he was able to fight back, showing his skill and desire, which culminated in his winning the 2019 Masters, something that few betting websites were even offering odds on a few years before.
In the world of cycling, Mark Cavendish could easily be seen as a direct comparison with Woods. During his years with the T-Mobile Team, he built a reputation for being one of the best sprinters in the sport, winning numerous stages in some of the biggest road racing competitions, and also took home the green jersey in the 2010 Vuelta a Sespana, and the 2011 Tour de France.
Unfortunately like many great sportsmen and sportswomen before him, he struggled with a number of injuries (and illnesses), which then meant a dramatic loss of form. It did seem like his days of racing right at the top were over, especially given his advancing years. He moved team quite frequently, never appearing to settle, and often letting his emotions get the better of him following poor performances.
His inclusion in the 2021 Tour de France team for Deceuninck-Quick-Step was a surprise to many, as few bettors were even looking for odds on him appearing at the Tour. However, not only was he there, but he arguably put in his strongest performance in France to date. He won 4 stages, which earned him the green jersey once again, for the first time in 10 years. Not only that, but he also equalled the record set by Eddy Merckx for the most number of stage wins at the Tour, a feat few ever believed to be possible. It really was a sight to behold watching the 'Manx Missile' happy and smiling again, throwing back the years and taking home his beloved green jersey.
A few weeks ago it was announced he had suffered a collapsed lung and two broken ribs following a crash during the Ghent Six Day track event. Hopefully his recovery doesn't take too long, as surely he will be keen to be back out on the bike as soon as possible, especially over in France, to try and take Merckx's record off him for good. Few would bet against him achieving this feat, so look out for the betting odds once the 2022 Tour de France begins on the 1st of July, funnily enough in Denmark.
Dowsett falls just short in world record attempt
While the vast majority of cycling events happen with multiple races facing off against each other, there are certain events where a single cyclist attempts to break a record, either in time or distance, without any other riders in the vicinity. One such occurrence is the hour record, where a cyclist attempts to travel the furthest distance possible in one hour, following a stationary start. This is conducted in an indoor track, so that the riders don't have to battle any wind or any other adverse weather conditions.
In 2015, Alex Dowsett set a new record of 52.937km traveled in 60 minutes, which beat the previous record by Rohan Dennis by just 0.446km. While Dowsett would have been overjoyed with his achievement, his fellow British rider Bradley Wiggins beat this record only a month later, with an astonishing distance of 54.426 km. Few would have placed bets on this record ever being beaten, but in 2019 the Belgian rider Victor Campenaerts did just that, setting a new record of 55.089km.
Dowsett spent several years training to take on the challenge again, which he did so on the 3rd of November. Unfortunately for him he could only register a distance of 54.555km, so did not set the new hour record. Hopefully he'll have another attempt at the challenge in the coming months.