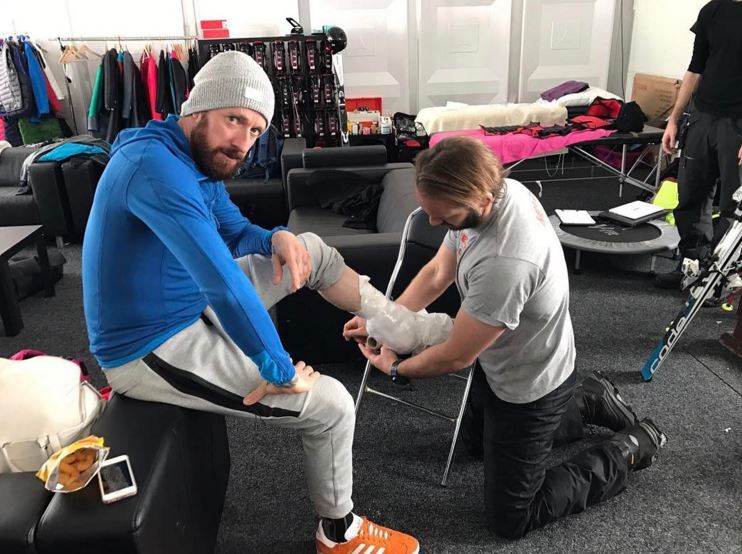 Bradley Wiggins has suffered a leg break during filming for a reality TV sports show in the UK.
The 2012 Tour de France winner and eight-time Olympic medallist revealed the extent of his injury on social media, which he sustained while participating in the celebrity skiing competition, The Jump.
The 36-year-old confirmed he had suffered a 'small leg fracture' that means he will need three-six weeks rest and that no surgery or cast was needed.
"Gutted to be leaving The Jump. I wanted to give you an injury update…‬ ‪Seen a specialist, I have a small leg fracture and need to rest for 3/6 weeks. Good news no surgery or cast required. ‬No horror smash, small training injury which means I can't compete! Huge thanks to the crew and good luck to all of the cast. Due to the way the show is filmed I'll still be on until show 4, so be sure to tune in to see how I do", said Wiggins on Instagram.
A source told The Sun: 'From everything we know the break should heal properly. It is a small fracture, so much so that he had been hoping to be able to carry on from it. But the specialist said he needed to keep off it. He is really disappointed not to be able to carry on.'
Wiggins joins a long list of contestants to have suffered painful injuries while participating in the Channel 4 show. Former Olympic gymnast Beth Tweddle required neck surgery after a crash last February, while former Holby City star Tina Hobley is still recovering from leg and arm injuries sustained on last year's series.