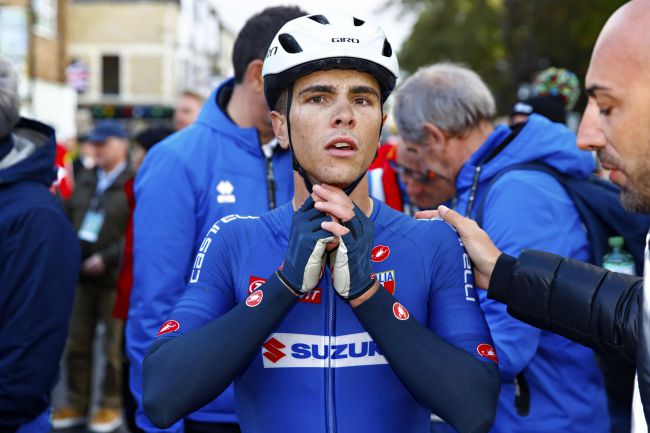 Samuele Battistella won the men's U23 road race at the Road World Championships after Dutchman Nils Eeckhoff was disqualified after the race.
Eeckhoff won the sprint in downtown Harrogate ahead of Battistella and Stefan Bissegger of Switzerland. But he was later disqualified by the UCI race jury for allegedly riding behind a team car during the race.
The World Championships website said that Eekhoff "had illegally drafted behind a team car to get back into the bunch after an early crash", while a UCI report stated it was for "sheltering behind or taking advantage of the slipstream of a vehicle".
#Yorkshire2019 – Footage of Eekhoff's return in the peloton pic.twitter.com/anI9jOa4Zt

— La Flamme Rouge (@laflammerouge16) September 27, 2019
Thomas Pidock was bumped up to bronze, as Battistella was crowned the champion with Eekhoff disqualified.
"I had a crash earlier in the day and I didn't feel so good, but then on the local circuit I started to feel that my legs were really good," Eeckhout said. "I thought the chance was quite small that we would get [across]. I  got in a good group and we managed to make it over to the first group."
"Maybe I don't have the photo with the hands up. I'm sorry for [Eeckhoff]," Battistella said. "I was happy with second place. Now I'm the world champion. I can't believe it. It's fantastic."
Road World Championships 2019 – Men U23 road race results:
| | | |
| --- | --- | --- |
| 1 | Samuele Battistella (Italy) | 3:53:52 |
| 2 | Stefan Bissegger (Switzerland) | ,, |
| 3 | Thomas Pidcock (Great Britain) | ,, |
| 4 | Sergio Higuita (Colombia) | ,, |
| 5 | Andreas Lorentz Kron (Denmark) | ,, |
| 6 | Tobias s Foss (Norway) | ,, |
| 7 | Pascal Eenkhoorn (Netherlands) | +38" |
| 8 | Mikkel Bjerg (Denmark) | ,, |
| 9 | Mathieu Burgaudeau (France) | ,, |
| 10 | Torjus Sleen (Norway) | ,, |