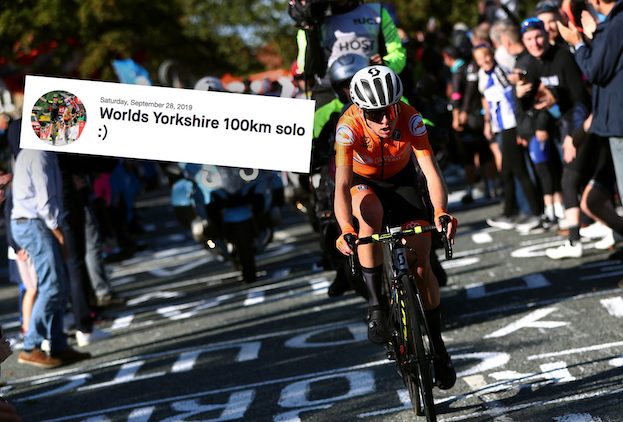 After he managed to take an incredible victory at the World Championships in Yorkshire, Annemiek Van Vleuten has shared her impressive ride with us on Strava.
The way Van Vleuten took the victory will go down in history, with the Dutchwoman having ridden 100km of the 149km course solo, holding the chase group and peloton at bay.
Just 40km into the 148km course, Van Vleuten gambled with an attack intended to suss out the competition. However, she had dropped the entire field and the gap was sizeable enough that her coach back in the team car told her to push on.
Eventually, Van Vleuten finished more than two minutes ahead of the next rider, her teammate Anna van der Breggen.
The Dutch cyclist completed the 149km course with 2,360m of elevation in just over four hours. Her average speed was 36.3km/h, hitting a maximum speed of 82.1km/h.

After going alone at Lofthouse, Van Vleuten's average speed was actually higher than her speed for the entire day sitting at 37.8km/h.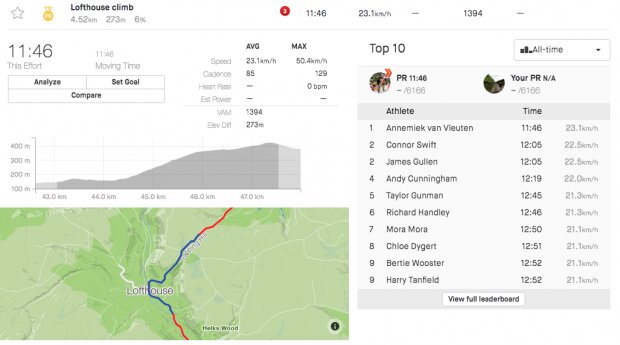 She took 10 Queen of the Mountains, but also the King of the Mountain on the Lofthouse climb. She shaved 19 seconds off the previous best time set by Arkea-Samsic's Conor Swift to record a time of 11 minutes 46 seconds for the 4.5km, 6% climb.