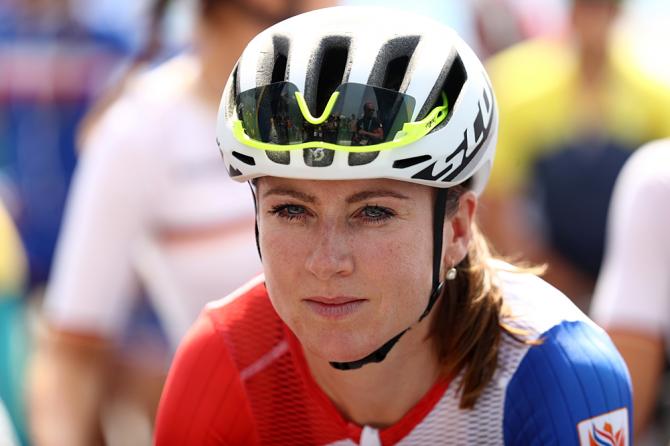 Two-time world time trial champion Annemiek van Vleuten will start the 2019 with Mitchelton-Scott with a new outlook and new goals despite the need for extensive rehabilitation after a rollercoaster end to the 2018 season. 
Just days after winning her second time trial world title, Van Vleuten, one of the favourites for the world championship road race was on a high and in the best form of her life, until she suffered a fall which quickly ended her dreams of taking a second world title at the championships.
The 36-year-old crashed but jumped back up and onto her bike, showing her usual unstoppable determination. She finished the race in an unbelievable seventh place, attacking away from the main bunch before later finding out she had in fact fractured her knee and detached the ligament.
The crash has impacted the whole of her off-season and plans for 2019, after being forced off the bike for a lengthy period, facing a long road of rehabilitation.
"The crash wasn't really anything, it was a small crash and I just tried to avoid it on the other side of the road. My ligament was so strong that my foot stayed in the pedal and my upper body moved and this caused the bone to come off, they call it an eminence fracture. Because it was completely off they had to operate and it was also dislocated so they had to put it back into place and they didn't use a screw but something else to keep it in place.
"Immediately when I came off the bike I felt something was really wrong with my knee, I told the mechanic that my world championships were finished but as a cyclist you just take your bike, get going again and then see what will happen. At first when I got back on the bike I still felt so good, even with one leg it was easy to come back and in one moment I was in front again. 
"I knew it was bad but only after the finish I felt it was really really bad. I couldn't go on the bike, I couldn't walk. In the race itself I think my will to win was bigger than the pain I felt so that is why I continued.
"During the race I started to believe again I could be world champion so I didn't want to give up but in hindsight it wasn't very realistic. After the MRI scan I couldn't believe what I saw, that I actually finished the race with that kind of fracture and after it was such a stupid small crash."
The 2018 WorldTour winner has dealt with plenty of injuries, setbacks and comebacks, with her previous most challenging one being the Rio Olympic Games. Nevertheless, the Dutch woman bounced back in an extraordinary fashion, both physically and mentally, winning her first race back post-crash. 
"After the Rio Olympics I was on my bike again already after one week and with this injury I have to be very patient, it is hard for me to deal with. Once I can start to look forward and set goals and plan training camps it will be easier but for now I have to take it month by month. 
"They told me the recovery process will be long because it is a complicated fracture, because it is my knee and it is very important to bend the knee. I need a long intensive process of physiotherapy now, especially to start to bend the knee again. I just started this week, it is now three weeks after the operation.
"It will be a long process to start to walk normal again, stretch my leg and it is still very, very painful to bend my knee. I need to be very patient. I live close to the federation sport centre, I go five times a week, two times a day to the physiotherapist there. It is good I have all the support with the doctors from the federation and with the team, so I feel confident I am in good hands. 
"I have had some set backs, I have dealt well with disappointment before but I find it challenging to again have such a big disappointment and I couldn't really celebrate my world championship title. It is hard, I also missed out on a holiday to recharge the batteries. I have a really long rehab period but I know I can do it. I have to try to see the positives of small milestones, like already this week to start with physiotherapy.
"I think for 2019 it will be a really big challenge to get back to the level I had this year, especially after a long time without the bike and physical exercise. I know realistically my goals should be towards the end of the season but I really want to be at my top shape in the Ardennes. We still have that goal, I know it will be really hard but we won't give up on that. "