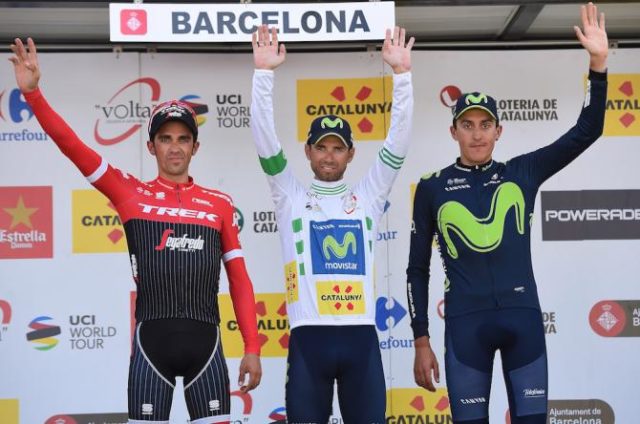 "The legs felt really good after such a difficult race as in Saturday, when we had to go through some difficult climbs at a very high pace, under the rain and with much cold", said Valverde after the final stage.
"It was all completely different today, with pleasant weather, a short stage and – just like throughour the whole week – a magnificent job from my team-mates to control that 22-rider early break, later chased down by the other teams.
"At that final lap, I knew Martin would be jumping away at that point next to the Stadium, because he had done so in the past. I just went after him – though it took a lot for me to close the gap, when he stopped I could see that our advantage was decent. Since it wasn't the best cooperation between us two, we ended up starting that downhill sprint at a very much slower speed than the pursuit group. I just, barely managed to win the stage.
"To be honest, I wasn't expecting to get these results. I knew I was in good condition leading up to this race, and those final training rides with Rojas and my team-mates in Andorra the week prior did good on me, but you had to keep in mind that I had spent a whole month without racing, since the Vuelta a Andalucía, while some other rivals like Alberto had a better racing pace. My plan was to go day-by-day, without setting my sights on the bigger goals, but my legs got better and better through the race, even more so today", Valverde added.
"The Volta is a race that I really like, and every time I take the start here is with an aim to do things well. My five team-mates were superb, and I don't want to forget about Castroviejo and Amador, who had to abandon with illness yet still did great while they could. We proved we were the strongest team at the TTT, and I tried to continue chasing victories to repay the whole squad after their fantastic effort on Tuesday and ever since."