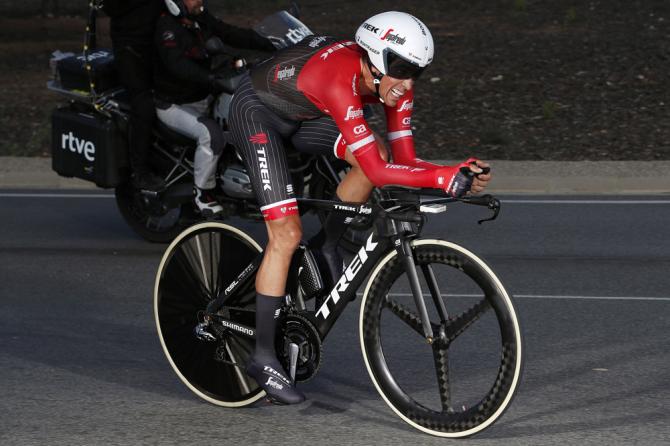 In the final time trial of his career, Alberto Contador blasted across the line with the quickest provisional time, and after the final eight riders had arrived, laid claim to fifth place and also soared up the standings to fifth place in the General Classification.
"I think I did a good time trial, but after today I think reaching the podium will be very difficult," explained Contador. "I didn't have the split times of my rivals; I covered my SRM (power meter) and preferred to ride only on my sensations. I don't think it was the best time trial I have done in the last years – even recently I have done better, like my time trial at the Tour de France."
"There were some riders who were superior: Kelderman and of course Froome.  We knew that Froome was the big favorite for today; I think today's time trial suited him down to the ground."
Froome dominated the time trial and continued to show unparalleled strength in this year's Vuelta. Barring a complete breakdown or mishap, he will win the Spanish Grand Tour. But the fight for the minor steps of the podium will be a thrilling battle over the final five days with three uphill finishes ahead.
"I think a lot of things will happen in the next days; there'll be a lot of movement. There are riders who will make another move, like Lopez who will surely be on the attack," added Contador. "I think tomorrow will be very hard for everyone giving the difficulty of the climbs, and the ramps on los Machucos."
When asked if we will see him attack again tomorrow, Contador answered, "I will be riding on the base of my sensations, from moment to moment.
"There are five nice stages to come, and I will continue to enjoy this race, including the stage to Madrid, which will be very special as it will be my good-bye race," he added.