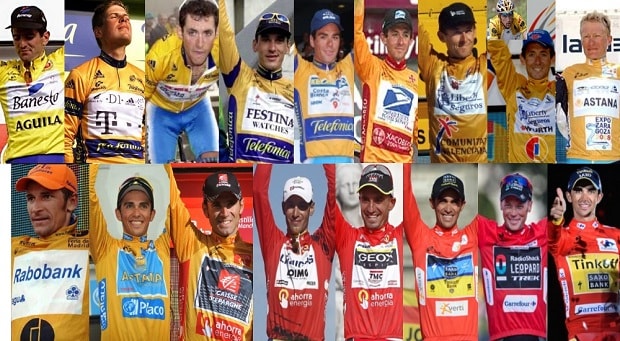 Sometimes dismissed as a lead up to the UCI Road Cycling World Championships held in the fall, the Vuelta a Espana was in the last couple of years the most exciting Grand Tour of the year. 
This year's edition is shaping up to be an all-star affair set to include the likes of Chris Froome, Alberto Contador, Romain Bardet, Vincenzo Nibali or Fabio Aru.
Here are 26 significant figures every Vuelta fan should know, from the rider with the most overall wins, to the cyclists who won the general classification without taking a stage along the way. Vamos!
The race was created in 1935
Gustaaf Deloor took the victory in the inaugural edition
Roberto Heras has the most overall wins, four (2000, 2003, 2004, 2005)
Julian Berrendero (1942), Freddy Maertens (1977) and Tony Rominger (1994) have led the race from the first until the last stage
Eight riders won the general classification without taking a stage along the way: Jean Dotto (1955), Rolf Wolfshohl (1965), Ferdinand Bracke (1971), Jose Pessarodona (1976), Marco Giovannetti (1990), Angel Casero (2001), Alejandro Valverde (2009) and Fabio Aru (2015)
Delio Rodriguez holds the record for the most stage wins, 39, which he got between 1941 and 1947
Alex Zülle has the most days spent in the leader's jersey, 48
Sean Kelly and Laurent Jalabert are the only riders to have won the points classification four times
Jose Luis Laguia is the cyclist with the most victories in the mountains classification, which he took five times
Iñigo Cuesta rode in 17 editions, an all-time record of the Vuelta
Jose Vicente Garcia Acosta and Federico Echave have the most completed editions, 14
Three riders from outside of Europe have won the trophy: Luis Herrera (Colombia), Alexandre Vinokourov (Kazakhstan) and Chris Horner (U.S.A.)
Smallest ever time gap between first and second was recorded in 1984, when Eric Caritoux came home just six seconds ahead of Alberto Fernandez
1945 saw the biggest winning margin, with 30 minutes and 8 seconds separating Delio Fernandez and Julian Berrendero
Freddy Maertens has the most stage wins at a single edition: 13 in 1977
Lowest average speed was recorded in 1948: 25,72 km/h
Highest average speed was in 2003: 42,5 km/h
The inaugural edition (1935) had the fewest number of stages, 14; the 1947 edition had the most number of stages, 24
The three most visited cities are Madrid (119), Zaragoza (90) and Barcelona (89)
Last world champion to take the victory in the race was Freddy Maertens, in 1977
Angelino Soler is the youngest ever winner – 21 years and 166 days
Chris Horner is the oldest ever winner – 41 years and 327 days
At first, the leader's jersey was orange, then white, orange again, white with a red stripe, yellow, back to orange, yellow, gold and red
Delio Rodriguez holds the record for the most consecutive stage victories: six, in 1941
Only two foreign countries have hosted the start of the Vuelta: Portugal (1997) and The Netherlands (2009)
In 1995, the race saw a change of dates, being moved from April to September