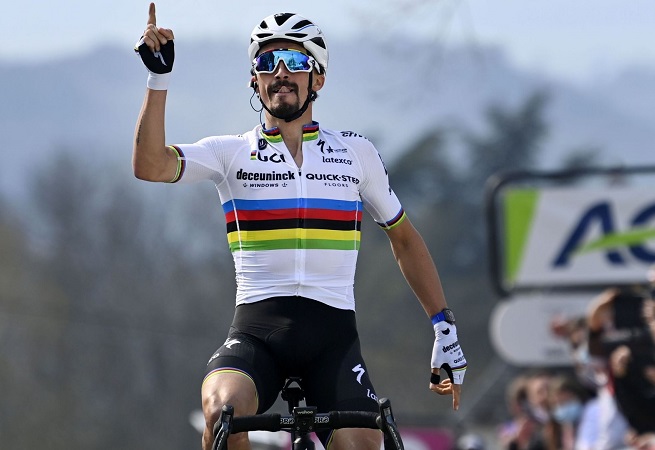 La Flèche Wallonne is the puncheur race with the finish at the top of the Mur de Huy (1.3km at 9.8 %) after three thrilling laps.

Weather
It will be a partially sunny Wednesday at Huy with the temperature expected to reach a maximum of 16 degrees during the day. No rain is expected though.
Who to watch in women's race
133.5 km for our ladies to undergo including the legendary 3 laps around the Mur de Huy.
In 2020, Anna van der Breggen responded to an early from Demi Vollering to move clear. Only Cecilie Uttrup Ludwig stayed in Anna van der Breggen wheels and grabbed the second place.
Last year, Anna van der Breggen took a record 7th win by distancing her opponents one by one. Katarzyna Niewiadoma took the second place with Elisa Longo Borghini at the foot of the podium.
Lulu says
The same girls are used to battle for podium or top 10. It's difficult to predict who will be the best of the day, but we have to make a choice.
Katarzyna Niewiadoma – second in Brabantse Pijl and second last year here. She is a great contender.
Demi Vollering – used to top 10 here, and recent victory at Brabantse Pijl shows she can also win.
Annemiek Van Vleuten – has regularly done well here even though she never won, only a podium, but not a win.
1-2-3 Boom!
Katarzyna Niewiadoma
Demi Vollering
Annemiek Van Vleuten
CC2004 views
Demi Vollering – 2nd at Amstel and won Brabantse Pijl solo, meaning that she can win solo.
Elisa Longo Borghini – Won Paris-Roubaix on Saturday with a 33.2km solo and can also climb.
Katarzyna Niewiadoma – 2nd at Brabantse Pijl, 5th in Amstel and 8th at Tour of Flanders. She is in great form.
1-2-3 Boom!
Demi Vollering
Elisa Longo Borghini
Katarzyna Niewiadoma
Mufcfaan thoughts
Demi Vollering – took a nice win last week. She could win solo again or beat her opponents on that punchy climb.
Annemiek Van Vleuten – beast mode activated and she can finally win it. Her form this season however is questionable.
Katarzyna Niewiadoma – she has been on impressive form recently and a win would not necessarily be a surprise.
1-2-3 Boom!
Demi Vollering
Annemiek Van Vleuten
Katarzyna Niewiadoma
Who to watch in men's race
202 km to put down for glory. The race will be decided Huy but the early climbs Tacrémont and Forges will decide the day break.
Marc Hirschi took a brillant win here in 2020 by beating Benoit Cosnefroy and Michael Woods who finished 2nd and 3rd respectively.
Last year, Primoz Roglic made a lethal attack at 350m and look set to victory only be overtaken by Julian Alaphilippe. Alejandro Valverde finished 3rd.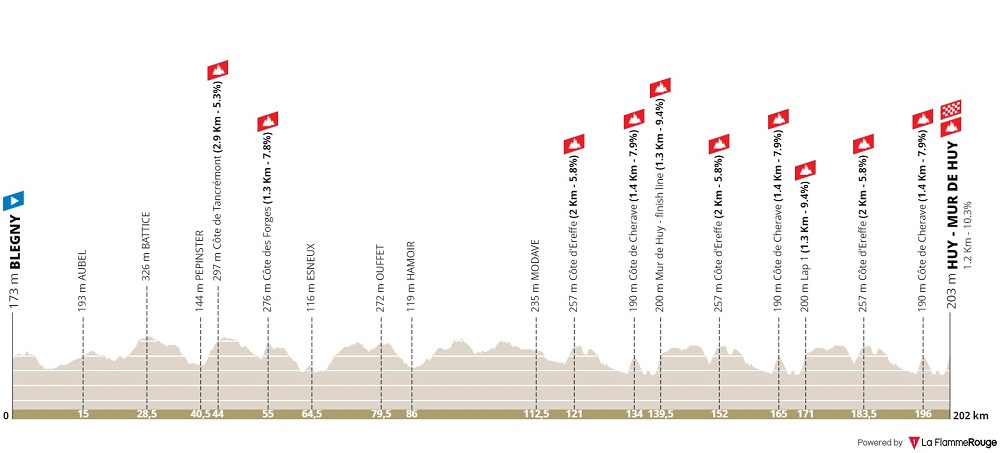 Lulu says
Alejandro Valverde is the recordman with 5 victories, meanwhile Julian Alaphilippe only has 3. It is difficult to think Valverde can win one more time, but sure he will battle for.
Of course Julian Alaphilippe will be one favorite, but if Primoz Roglic will not be there, Tadej Pogacar will be Slovenia's first chance, and probably boomakers favorite number 1.
Benoît Cosnefroy second in 2020, and second this year in Amstel Gold Race and Brabantse Pijl will try to be on podium.
1-2-3 Boom!
Julian Alaphilippe
Tadej Pogacar
Benoît Cosnefroy
CC2004 views
Tadej Pogacar – Did not start the last year but the steep climbs will suit him really well and won Strade Bianche indicating that he is the hot favourite to win.
Daniel Martinez – Beat the world champ to a stage win at Itzulia, also won the Itzulia general classification and will have a strong team to help him.
Alejandro Valverde – Has won the race 5 times and also likes the punchy climbs so can not be discounted, also 2nd at Strade Bianche.
1-2-3 Boom!
Tadej Pogacar
Daniel Martinez
Alejandro Valverde
Mufcfaan thoughts
Tadej Pogacar – The man, the monster, the power. How many watts can he put down and leave his opponents to the floor? Few can follow him.
Julian Alaphilippe – The more violent the climb, the better it is for our frenchie. Surely all that lead out with Remco at itzulia has to lead to something?
Daniel Martinez – He managed to beat Julian Alaphilippe in an upclimb stage two weeks ago. A repeat of his performance could bring him victory. Plus his team is the thing of the moment.
1-2-3 Boom!
Tadej Pogacar
Julian Alaphilippe
Daniel Martinez