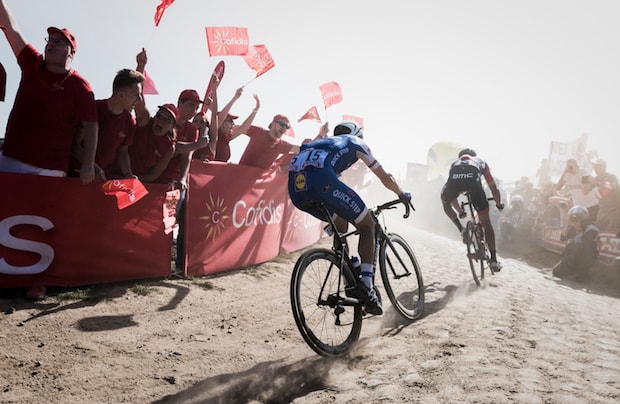 The course of the 2018 edition of Paris-Roubaix will stretch for 257 km and feature no fewer than 29 cobblestone sectors totalling 54.5 km. The race will be streaming live from start to finish right here at Cycling Today on Sunday 8 April, starting 10:00CET.
Paris-Roubaix was inaugurated in 1896, making it one of the oldest bike races in the world. Its place on the calendar marks the end of the cobbled classics season, coming as a climactic end after races such as the Tour of Flanders, E3 Harelbeke and Gent-Wevelgem.
Since the cobblestones are so essential to the outcome of this race, here's a quick guide to the 29 sectors that will make for a hellish Sunday in northern France.
| | | | | |
| --- | --- | --- | --- | --- |
| No. | Name | Kilometers into the race | Length | Rating |
| 29 | Troisvilles | 93.5 | 2200 m | *** |
| 28 | Briastre | 100 | 3000 m | *** |
| 27 | Saint-Python | 109 | 1500 m | *** |
| 26 | Quiévy | 111.5 | 3700 m | **** |
| 25 | Saint-Vaast | 119 | 1500 m | *** |
| 24 | Verchain-Maugré | 130 | 1200 m | ** |
| 23 | Quérénaing | 134.5 | 1600 m | *** |
| 22 | Maing | 137.5 | 2500 m | *** |
| 21 | Monchaux-sur-Ecaillon | 140.5 | 1600 m | *** |
| 20 | Haveluy | 153.5 | 2500 m | **** |
| 19 | Trouée d'Arenberg | 162 | 2400 m | ***** |
| 18 | Hélesmes | 168 | 1600 m | *** |
| 17 | Wandignies | 174.5 | 3700 m | **** |
| 16 | Brillon | 182 | 2400 m | *** |
| 15 | Sars-et-Rosières | 185.5 | 2400 m | **** |
| 14 | Beuvry-la-Forêt | 189 | 1400 m | *** |
| 13 | Orchies | 197 | 1700 m | *** |
| 12 | Bersée | 203 | 2700 m | **** |
| 11 | Mons-en-Pévèle | 208.5 | 3000 m | ***** |
| 10 | Avelin | 214.5 | 700 m | ** |
| 9 | Ennevelin | 218 | 1400 m | *** |
| 8 | Templeuve – L'Epinette | 223.5 | 200 m | * |
| 8 | Templeuve – Moulin de Vertain | 224 | 500 m | ** |
| 7 | Cysoing | 230.5 | 1300 m | *** |
| 6 | Bourghelles | 233 | 1100 m | *** |
| 5 | Camphin-en-Pévèle | 237.5 | 1800 m | **** |
| 4 | Carrefour de l'Arbre | 240 | 2100 m | ***** |
| 3 | Gruson | 242.5 | 1100 m | ** |
| 2 | Hem | 249 | 1400 m | *** |
| 1 | Roubaix | 256 | 300 m | * |